Drywall repair requires extensive skill and experience to achieve great-looking results, especially in older homes with textured walls, popcorn ceilings, or complex layouts. It takes a professional to get the job done right. Here are just a few benefits of hiring a drywall expert for your repairs in the Las Vegas area:
1. Expert Patching and Blending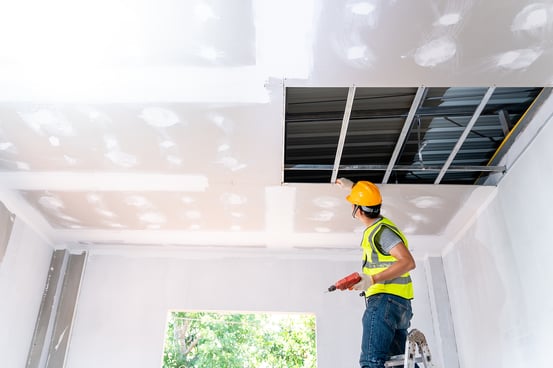 If a drywall repair is not done correctly, it will be noticeable. Common problems include a lump where the repair was completed, noticeable tape edges, a depression from the too little joint compound, cracking, or poor adherence. A professional can patch the wall and blend it perfectly, making it virtually impossible to spot the repair.

2. Texture Matching
When repairing textured walls or popcorn ceilings, it can be extremely difficult to match the texture perfectly. With the right tools and experience, a professional can make the repaired area look nearly identical to the surrounding drywall without needing to re-texture large areas.

3. The Best Materials
Choosing the wrong patch materials, tape or joint compound can leave you with a poorly done, unattractive drywall repair. A professional will be able to evaluate the repair area and select the right materials for the job.

4. Time Savings
If you are not experienced in drywall repair, it may take a long time to get a patch or repair to look perfect. Between installing the patch, adding joint compound, taping, letting it dry, and sanding, a repair can take hours for even a small area. A drywall professional can get the repair done much quicker, saving you time and effort while achieving much better results.

5. Repairing Complex Areas
It can be hard to work around features like outside corners, inside corners, curves, and places with multiple drywall surfaces in one area, such as stairwells or bookshelves. An experienced professional can handle all types of complex layouts and make the drywall repairs look amazing.

6. The Right Tools
For the best results, a proper drywall repair requires specialized tools like taping knives, screw guns, drywall lifts, sanding supplies, and more. By choosing a professional for drywall repairs, you can skip the investment in tools you may never need again.
Drywall Repair in Las Vegas, NV
When you need professional drywall repair in Las Vegas, Henderson, Mesquite, Pahrump, or the surrounding areas, turn to our experts at First Quality Roofing & Insulation. We are your one-stop solution for repairs after a roof leak and we can handle drywall repairs, taping, plaster repairs, texture matching, and more. Give us a call today at 702-262-7847 or contact us online to schedule drywall repairs anywhere in the Las Vegas area.