Owning a home can be expensive at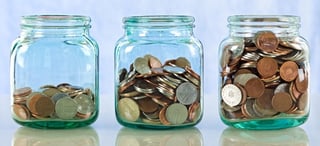 times. Saving money where you can is never a bad thing. But, there is a difference between being frugal and being cheap.
A frugal homeowner only spends money when it is needed. A cheap one uses quick fixes and half-baked ideas to avoid spending money. In the end, the cheap homeowner will need to pay out the big bucks to fix the minor problems that turned into major ones.
Here are six signs you may be a cheap homeowner:
Putting off basic maintenance to save some money. It is so easy to ignore basic maintenance around your home. A bit of flaking paint here or there is no big deal, right? Actually, it is a minor problem that can become a big one. Sun can break down the paint, exposing the surface beneath to damage. Fixing the underlying surface will definitely cost more than repainting it.
Getting in over your head by overestimating your skills. Doing the work yourself is definitely a way to save money on home projects. However, some jobs are just too complicated or too big for the average homeowner's skills. If you don't know how to properly sand your new wood floors, bring in the professionals. Otherwise, you may find your new wood floors have dings, dents, and uneven spots that cannot be fixed.
Refusing to pay retail prices. Comparing prices to get the best deal is definitely a smart thing to do with any major home improvement project. However, refusing to make the purchase until you get wholesale prices can end up costing you more than you might think. When your ideal tile goes on clearance, you may find that you cannot get enough to do the job.
Not using the right tools for the job. Some jobs require special tools for the best outcome. Trying to paint with a cheap brush will leave you with uneven color and a sloppy looking finish. Trying to remove a special fastener with the wrong tool can cause irreparable damage.
Only accepting the lowest bid. Getting multiple bids for major home improvement projects is the smart thing to do. However, accepting the lowest bid just because it is the cheapest is not smart. Cheap quotes often come from contractors who cut corners and fixing this kind of work can end up being very expensive.
Refusing to make improvements that can save money in the long run. Saving a bit of money by refusing to replace old windows or to enhance insulation levels is an example of this.
First Quality Roofing and Insulation is the frugal homeowner's friend. We offer quality products and services at the best prices. For even more tips on how you can save money, take look at our guide today!