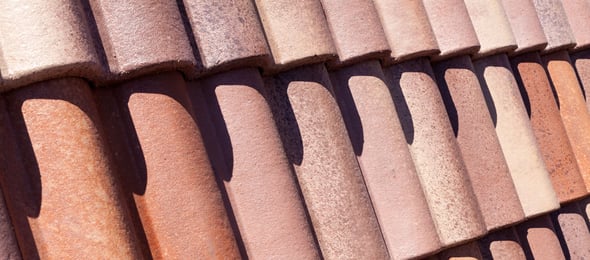 Most homeowners underestimate the harsh environment of their roof's surface. During the height of summer, the temperature of your roofing tiles in Las Vegas can skyrocket to over 150 degrees Fahrenheit. Some roof tiles are made of materials, such as slate, that can even become too hot to even touch with your bare hand. Additionally, climbing atop your roof during summer can be hazardous to your roof as some materials may become exceptionally brittle and easily damaged by an inexperienced hand.
Many of our customers will call us or contact us to ask whether it really matters if they are missing a few roof tiles in Las Vegas, or if it's okay to let a few broken tiles go un-repaired. Our answer is always a resounding no.
Broken or missing roofing tiles open up a space for the sun to beat directly on the protective tar paper installed underneath. Your roof tiles typically act as a protective shell for this material; without it the paper rapidly becomes brittle (particularly in sun-heavy cities like ours) and cracks. Water can penetrate through these cracks the next time it rains and cause significant damage to your building materials, in addition to creating an ideal environment for mold growth. In short, never let broken roof tiles go unanswered and don't attempt to cobble together a hasty DIY fix.
So what then do you do when you find broken roof tiles and you're not ready to chance further damage with a DIY repair? Whether you've suddenly noticed a hole near your chimney flue or see broken tiles on the ground, it's important to know that there's an easy, stress-free way to get a fast repair: You simply call in your neighborhood roofing experts.
Remember, your local roofing contractor -- that's us -- has your best interest in mind because we want you to be a lifelong customer no matter your roofing or attic needs. When you call us up for an inspection, we'll come to your home and do a thorough inspection of your roofing tiles in Las Vegas. There are many things that can be easily missed by an untrained eye and one broken roof tile might actually be the fault of poor sealing or some other issue on a nearby sections (this is also a good reason why you should never hire an uncertified roofing contractor who's only looking to make a quick buck). Not repairing the underlying cause will means you'll have more of a headache further down the line. Once we've determined the exact services you need, we'll be quickly on your roof to have your roof repaired in no time flat.
So next time you discover broken or missing roof tiles in Las Vegas, don't ignore it and remember a DIY fix often times won't be 100% effective. Instead, call us at First Quality Roofing and grab yourself a nice cold lemonade as we repair your roof. We promise the highest quality products installed with the highest quality service.