You probably don't think too much about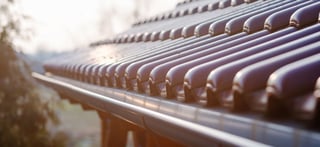 your roof, but its shape and style along with the finishing materials used that say a lot about your home. Use this guide to common Las Vegas roofing styles to learn about what kind of roof you have.
Gable Roof
This is probably the most common type of roof. The evenly pitched roof is the shape of a Monopoly house and every kindergartener's art project. They're good for shedding water and provide either attic storage or vaulted ceilings.
A gable roof also offers architectural interest to a home and can be finished with virtually any roofing material including clay tiles, concrete, metal and shingles.
Hip Roof
Sloping down all four sides from a single high point, a hip roof provides visual interest without complicated architecture. They are sturdy and durable and hold up to challenging weather conditions including strong winds. A low-pitched hip roof can make a home sit low and blend into the landscape.
Inside, a hip roof provides a bit of extra living or storage space. They can also be finished with most roofing materials, including clay, metal and asphalt shingles.
Gambrel Roof
This type is not a common Las Vegas roofing example, but you might see a few on sheds and barns in the area. With a shallow slope at the top and a steep slope toward the bottom, this type offers a lot of upward storage with a small footprint.
A Gambrel roof may be less durable in high winds or harsh weather. A metal finish is often recommended for large structures while shingles or tiles can be a good choice for smaller buildings.
Shed or Skillion Roof
With a single pitched surface, a shed roof is a common choice for small structures and home additions due to its simplicity. The steep pitch can be troublesome in high winds, but otherwise is a good choice for most conditions.
The unique angle offers an ideal space for picture windows to let in sunlight (or the reverse--face the pitch toward the sun to shade the other side), or to provide access to dramatic scenery. Tiles and shingles are good finishing options, but metal will offer a sleek, streamlined look.
Flat Roof
A flat roof is not completely flat, a bit of slope is necessary for proper drainage. They are an ideal choice for blending into a landscape and provide an area for extra outdoor living space, a vertical garden, or the installation of solar panels. Finishing options include metal sheets, rubber membrane and other seamless materials.
Let Our Las Vegas Roofing Experts Assist You
First Quality is your go-to source for Las Vegas roofing questions--and answers! To learn more about Las Vegas roofing, including maintenance tips, life expectancy, replacement costs and more, download our guide, All Your Roofing Questions in One Place, today!