The condition of your roof highly depends on the workmanship. A poorly installed roof is not only a health hazard but can also end up costing you a lot of money in repairs. To give your roof the best services, you need to understand what roofers do, as well as what to expect from roofing professionals. This puts you in a better position to hire qualified roofers for your project.
What Roofers Do
1.
Consultation
Consultation is usually the first point of contact between you and your roofer to discuss your roofing needs. It is at this stage that roofers get an overview of your roofing problem(s) and provide solutions. It's also an opportunity to gauge your roofer's demeanor and how they treat their customers.
2.
Roofing Services
A roofer's job includes performing new roof installations, maintenance, repairs, re-roofing, and roof replacement. Working with roofers who provide all these services is ideal, as it prevents you from having to hire multiple companies to fully maintain your roof, and it also gives you a better idea of what to expect as far as quality.
At First Quality Roofing & Insulation, we offer all of these roofing services, as well as attic insulation, roof certification and drywall repair, so you can have one trusted roofing partner for all your needs.
3.
Roof Evaluation
Before any roofing job, the first responsibility of any professional roofer is to assess the roof. This is to pinpoint the problem areas, what materials may be needed, and figure out how long the project may take. While roofers will always evaluate your roof, it doesn't mean that you shouldn't give your input concerning the issues on your roof.
First Quality Roofing & Insulation ensures that your roof is assessed thoroughly by experts with a trained eye for any issue that may jeopardize the efficiency of your roof.
4.
Drafting Estimates and Contracts
An estimate is simply a projection of the cost of your roofing project. A professional roofer will provide you with a detailed estimate, covering all the expenses that you are likely to incur during the project. This includes the type of materials to be used and their costs, labor costs and emergency funds you should set aside for unforeseen circumstances.
A good roofer will also include the project's timeframe to help you plan accordingly. They also draft a contract, complete estimates, project a time frame of completion, work to be done, and payment schedules. We provide free and detailed estimates and contracts upfront, complete with liability explanations to cushion you from surprises once the project begins.
5.
Providing Advice and Insights
Roofers also offer advice and insights on how to take care of your roof and prevent damages. A good roofer should also be available to address whatever concerns you may have. If there's anything you should do to make the roofing project successful, your roofer should be able to communicate.
First Quality Roofing & Insulation has a friendly customer care center where all your needs can be taken care of.
Necessary Qualities of a Good Roofer
An apprenticeship program where you train on the job is enough to give you the required skills to service various types of roofs. One can go to college and get a diploma in roofing occupations to acquire knowledge of roofing, but this is not required to become a roofer. Other than the technical skills needed to complete roofing tasks, roofers need to be physically ready for the job. They should have the stamina, strength and balance to carry heavy materials, climb roofs and work long hours without the risk of falling. An eye for detail and accuracy are also critical when making measurements, and of course, no fear of heights!
Our team of roofers is made up of highly qualified professionals with proven expertise. Our commitment to quality and superior service ensures that we always get the best-qualified personnel for any job.
What Makes First Quality Roofers Some of the Best in Nevada?
When vetting potential roofers to work with, you want to find a roofer who will get the job done to your satisfaction. First Quality Roofing & Insulation not only offers you value, but also strives to exceed your expectations. Satisfied customers are our biggest asset. Here's why we are your best bet when it comes to roofing and insulation services in Southern Nevada: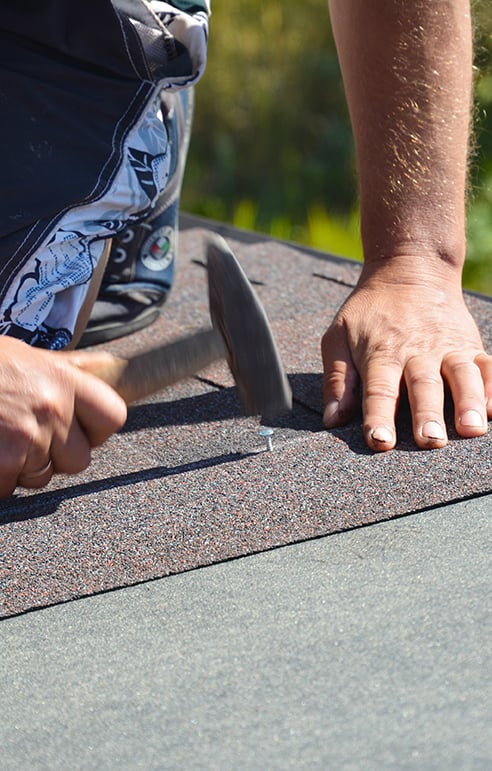 License and insurance. Professional roofers are licensed to provide their services. As such, you should expect proof of licensure and certifications to avoid being on the wrong side of the law and being scammed. Also, ensure they are adequately insured to cover any accidents or damage that may occur on your property during the project. First Quality is a licensed and insured company, so you can rest easy knowing your roof is in safe hands.
Warranty and workmanship guarantee. Warranties and guarantees are symbols of a roofer's confidence in their work. Your roofer should provide a warranty or guarantee so that, in case of any issues, you can still have your roof serviced without having to incur extra expenses. First Quality Roofing & Insulation offers you a 10-year warranty, both on materials and labor for your roof replacement.
References and reviews. When scouting for potential hires, look up reviews from past customers on sites like Angie's List. Skilled roofers provide references to their previous work, so you can know what to expect. You also get to gauge whether they can handle your roofing project or not. We not only pride ourselves in the ability to satisfy our clients, but also have lots of positive testimonials to show for it.
Experience and expertise. Contractors with many years in the industry are typically better qualified to tackle your roofing challenges, compared to ones who have only been in business for a couple of years. We ensure that our roofers are well-trained and certified in their fields of expertise, and our extensive experience speaks for itself.
High-quality materials. No matter how good the workmanship is, low-quality materials will shorten the lifespan of your roof. Your roofer should use quality materials for your project. At First Quality Roofing & Insulation, we partner with notable names in the roofing industry to ensure we give our clients nothing but the best.
Financing options: You need to work with a roofing contractor who fits your budget and offers cost-effective services. Finding one with financing options to ease your financial burden is a steal. We offer a variety of financing options for those who are on a tight budget and need their roofs serviced. Our financing options include 100% financing with no interest if you pay within a year.
Great customer service. Excellent customer service is essential for the success of any project, as it goes hand-in-hand with communication and transparency. A roofer who values you will put you first and listen to you. Our 3 Angie's List Super Service awards are perfect testaments to our excellent customer service and professionalism.
If you are looking for reliable roofing experts in Nevada, First Quality Roofing & Insulation has you covered. Contact us today at 702-262-7847 for all your roofing and insulation needs.