We see this chain of events all the time at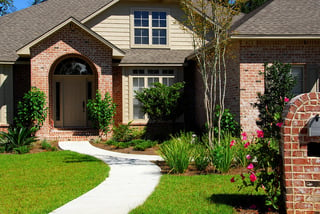 First Quality Roofing & Insulation: Someone calls us to schedule a roof inspection or roof repair and then calls back a few days later wondering if we have any ideas for improving the front elevation of their home.
What's going on here? We're fairly certain the inspection or repair has placed their roof in a top-of-mind position – literally. It has temporarily trained their eyes to look upward. And as they look at their roof from the curb or the driveway, they see the bigger picture: a house that could use a little sprucing up.
Mindful that our customers have just paid for a roof inspection or repair, we strive to offer both affordable and quick projects. These 10 ideas will add instant curb appeal to your home, whether you do one or do them all:
Paint something small (meaning not the whole house) but influential, such as the front door, garage door, shutters, window trim or porch railings. If at first you don't succeed, paint, paint again; it's one of the most inexpensive changes you can make.

Replace light fixtures near the front door (as well as the garage door, if you can afford to do so). Make this project a snap by purchasing a fixture with the same spacing between screws.

Install large house numbers, both on the garage and near the front door. Match the finish to your light fixtures for a streamlined look.

Install a stylish, freestanding mailbox on a post near the curb. If you already have a box at the curb, paint it and the post in colors that complement your house.

Change your storm door, perhaps to one with decorative glass. One with a screen panel can improve your home's ventilation, too.

Line your concrete sidewalk with bricks or clay, concrete or stone pavers. Doing so will add texture, depth and a splash of color.

Add some low-voltage lighting to improve your home's nighttime curb appeal. Highlight walkways or dark corners and purchase lights with a timer so they turn off automatically.

Plant a colorful shrub or tree, or plant two to frame the front of your home. Taller plantings also can provide shade that will help cool your home and reduce your summer energy bills.

Install an awning for instant charm. Depending on your home's elevation, a single awning over the largest window facing your front yard also can provide shade to cool down your home during the warmest months of the year.

Install flower boxes below stationary or double-hung windows. Yes, the flowers inside will require almost daily watering, especially during the summer. But the color and warmth they exude may be worth keeping a watering can close by. If not, downshift to placing a few sizable planters near the front door.
Of course, your home doesn't need to undergo a roof repair for you to undertake one or more of these projects. But every home can benefit from a yearly roof inspection from First Quality Roofing & Insulation. Call us to schedule yours – and get a leg up on improving the curb appeal of your home.