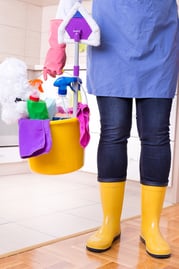 If you've told your children once, you've told them a thousand times: Take your shoes off when you come in the house. But there it is, a nasty, black scuff mark on the vinyl floor in your mud room because somebody forgot the house rule.
Rather than lose your cool, grab a tennis ball from the garage and use it as an eraser to remove the scuff mark from the vinyl. In moments, the mark will disappear – game and set.
This is just one ingenious cleaning tip that First Quality Roofing & Insulation has learned from customers over the years while we visit their homes to conduct a roof inspection or make a roof repair. But our customers are more than resourceful; they're modest, too, saying they learned these "secret" cleaning tips from professional cleaning companies. Whatever their genesis, these six clever cleaning tips are so helpful that it's worth exposing them so they're a secret no more:
Marker magic: Just because it's identified as a "permanent" marker doesn't mean that the ink it leaves behind has to be. Pour a little vegetable oil onto a cloth and apply a little elbow grease to the stain. Then remove the oily coating with a damp cloth and see just how temporary ink can be.

Soap scum sanity saver: Removing soap scum from showers and tubs is one tough household job that can be a snap – literally. Let the soap scum dry to a tough finish and then scrape it off with a plastic putty knife. For trickier surfaces and grout lines, try Mr. Clean Magic Eraser.

Soap scum sanity saver 2: To prevent soap scum from building up in the first place, consider switching to a synthetic soap. Any soap that comes in a liquid or gel form, as well as bar soaps such as Ivory and Zest, are less likely to leave a tough buildup behind.

Duster dance: Dusting ceiling fans isn't an easy task even for tall people, and short ones may avoid it entirely. Gather those dust clumps with ease by wrapping a dryer sheet around a paint roller and securing it with a rubber band. Attach an extension handle and make this dusting job go even faster.

Crumb wedge: Moving your refrigerator away from the wall to vacuum underneath it and around the coils can uncover piles and piles of crumbs and food particles. Block the downpour of debris by filling the gap between the countertop and refrigerator with clear plastic tubing, available in home improvement stores in a variety of widths.

Fingernail finesse: If you're facing a dirty job like digging in the garden or working on a greasy piece of machinery, get a leg on the cleanup by sinking your fingernails into a bar of soap first (and you may as well make it a synthetic blend). The soap will repel dirt, oil and grease and will dissolve when you wash your hands.
As long as these cleaning tips are top-of-mind, be sure to schedule your annual roof inspection with First Quality Roofing & Insulation. Your roof may require a cleaning, too, but hopefully not a repair to ensure that it continues to protect you and your family as it should. Just as you have house rules, protecting our customers' safety is our guiding rule at First Quality.