Every house requires a certain amount of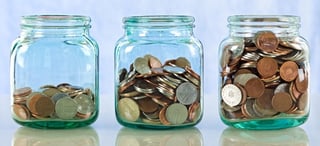 repairs and upkeep to keep it in good shape. But although home repair projects may seem like a financial drain, many of them can actually save you money – either when you do the job yourself or by improving the function and efficiency of your home. If you're looking to find ways to save money while updating your home, here are a few projects you can try.
Paint the Walls
Painting the walls is frequently touted as one of the cheapest and easiest upgrades you can make to your home – and for good reason. With a little time and elbow grease, just about anybody can easily update their rooms with a fresh coat of paint. Gallons of paint are quite inexpensive and you'll only need a few basic tools to get started – saving you hundreds of dollars over hiring a professional painting crew to come in and do the job. If you want your paint to look great even as the trends change over the years, stick with a timeless neutral shade. Gray walls are extremely popular right now.
Patch Holes in the Wall
A hole in the wall might feel like a huge problem, but they're much easier and cheaper to patch than you might imagine. For small holes, like where a door knob has repeatedly knocked into one spot, injecting a small amount of a setting compound is really all you need to do. For a larger hole, cut out the broken portion and replace it with a new piece of sheetrock, cut to size.
Refinish Your Deck
If your deck is showing signs of wear and tear from years of use, it doesn't necessarily mean you need to completely replace it. As long as the deck is structurally sound and the boards are in good shape, there are much cheaper options available. With a simple coat of deck restoration coating and a few days of drying in the sunshine, your deck can look as good as new. Even if you need to replace a few broken boards, this DIY project is a huge time and money saver.
Replace Your Roof
Putting a new roof on your home is one investment that can save you a lot of money in the long run. One of the biggest benefits of installing a new roof is it helps protect you against water damage, which can cause extensive and expensive damage throughout your home. By upgrading your roof, you'll also enjoy the improved benefits new shingles provide. Today's shingles are much more wind resistant and energy efficient than those made 10 to 20 years ago. This can save you money on storm damage and heating and cooling costs over time.
If you are looking for an experienced and professional roofing company in the Las Vegas area, contact First Quality Roofing & Insulation. Find the answers to even more tips on how to handle your money by downloading our Ultimate Money Saving Guide.