As fall approaches, it's the perfect time to take care of a few home maintenance tasks. Many require only a small investment of time and money, and they'll help keep your home safe, comfortable, and in good condition as the weather changes.
The following 5 tips will help prepare your home for fall:
Replace Your Furnace Filter
Check your furnace filter monthly and replace it when you can no longer clearly see light through it. A dirty filter can cause your furnace to run less efficiently or even to overheat and shut down, and a new filter costs far less than a repair.
Clean Weep Holes
Tiny weep holes, which are located on the exterior of sliding windows and vinyl replacement windows, allow rainwater to drain safely away from your home. However, they can become clogged with debris over time. To check for clogs, use a garden hose to spray the outside of your windows. If clean water streams from the holes, they're not blocked. If it doesn't, loosen and remove the blockage using a wire hanger or compressed air, and test them again with water from your hose.
Install Window Film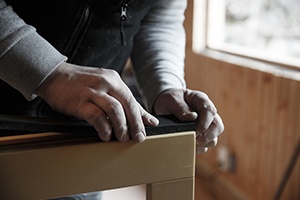 Installing reflective window film is a quick way to reduce your energy bills throughout the year. It does double duty throughout the year, helping to regulate temperatures in your home by keeping warm air inside during cooler months and blocking out hot air during the summer.
Replace Weather-Stripping as Needed
Check for signs of light underneath your closed exterior doors. If you can see any, that means your heated (or cooled) air is escaping, and outdoor air (and pests!) can make their way in. You can replace or install self-adhesive rubber foam weather-stripping to help inexpensively seal outside doors.
Install a Carbon Monoxide Detector
Gas appliances including your oven, stove, water heater, and furnace can create a build-up of potentially deadly carbon monoxide gas if they're not properly vented. Your fireplace can also contribute to this problem if your chimney isn't kept clear. Keep your family and guests safe by installing a UL-listed carbon monoxide detector to help alert you to the presence of this odorless, colorless gas.
For more tips on getting your home ready for fall, download the free Home Maintenance Checklist from First Quality Roofing & Insulation. You'll learn about changing your dryer vent, when to get your roof inspected, and more information to help keep your home in good condition.