Additional storage space is at the top of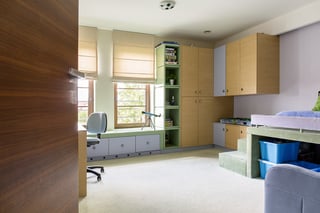 just about any homeowner's wish list. No matter how big your closets may look, there just never seems to be enough room for everything. Finding more storage space is essential if you want to reduce clutter and stay organized. And if your home is on the smaller side, you really have to get creative. If you're looking to maximize the amount of storage space in your home, here are four creative and hidden storage solutions.
Ottomans
Ottomans are the perfect multi-function storage solution for any living room. You can prop your feet up on them at the end of the long day. The flat surface can also function as a coffee table or end table. When you're entertaining, they can serve as a seat for your guests. And many ottomans have a removable seat top, allowing them to also be used as a hidden storage spot. This space is great for holding blankets, books, magazines, photo albums and any other living room essentials. Storage ottomans range in size from a small cube to a large bench, so you can always find just the right size – even if you don't have much extra space in your living room.
Closet Cradle
Your closets might be filled to the brim, but look up and you're sure to find some unused space near the ceiling. Attach two wires running parallel to each other a few inches below the ceiling. These wires can serve as a cradle for tubes of wrapping paper. This will keep your wrapping paper out of the way, but still accessible whenever the next gift giving occasion arrives.
Floating Shelves
Floating shelves are easy to install and can actually provide a lot of valuable storage space, despite their small appearance. On top of the shelf, you can store knick knacks, souvenirs collected from vacations, photo frames and other decorative items that might be cluttering your table tops and closets. You can even find floating shelves with hidden drawers for more storage space. Floating shelves are a great addition to any room in the house. You can even add larger ones in the bathroom to hold clean bath towels.
Under the Bed
There is a lot of storage space underneath your bed, but sometimes this space doesn't feel very practical because it's hard to access. However, all you need is an old laminate bookcase to make this area a practical storage solution. Lay the bookcase down on its back and mount wheels to it so it can easily roll out from under the bed. The shelves work as built in dividers to keep everything organized in your new under the bed "drawer". You can even paint it to coordinate with your bedding and bedroom furniture.
With a little bit of creativity, you'll be amazed at how many bonus storage spots you can find around you home – all perfectly hidden in plain view.
For even more tips on how to keep your home organized and running smoothly, check out First Quality's Home Maintenance Checklist. Contact First Quality Roofing & Insulation at 702-262-7847.