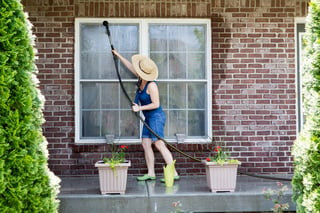 At this time of year, she is media ubiquitous – appearing on TV shows and radio programs, in newspapers and magazines and on social media posts across the country.
To anyone who could benefit from spring cleaning tips from someone who has been in the professional cleaning business for nearly 40 years, she is a go-to resource even for home gurus like Bob Vila. You might even call Debra Johnson the merriest of maids, because as the curriculum manager of Merry Maids – the largest home cleaning franchise network in the United States – she is known to scatter dust with a smile.
She got the attention of First Quality Roofing & Insulation by recommending spring cleaning tips from "top to bottom." She probably didn't mean to be taken literally; you should trust roof inspections, repairs and cleaning only to the licensed contractors at First Quality. But for just about everything else that lies below your roof, six essential tips should ease the burden of your spring cleaning effort:
Divide and conquer. If you want to clean your home from top to bottom in one weekend, then go for it. But the prospect is overwhelming for many people. Make a list of everything you wish to do and then do what you can in 30- or 60-minute blocks of time. It will take longer, but you'll feel less stress. Refer to Johnson's handy checklist for guidance.

Purchase a tote for your cleaning supplies. Keeping everything together will spare you the stops and starts that can prolong spring cleaning. (It can elongate roof repairs, too, which is why First Quality enthusiastically endorses this tip.)

Place microfiber cloths in that tote. They lift dirt rather than push it around, making them superior to cotton rags and feather dusters. You can soak them and wring them out before washing floors, too. These workhorses can be washed and dried up to 500 times before they need to be replaced, so they're much more economical than paper towels.

Clean a room from top to bottom and from dry to wet. Doing so will keep the dirt falling until you can scoop it all up with a vacuum cleaner at the end.

Exert a light touch with cleaning products. More product doesn't equate to "more clean." In fact, too much product can be difficult to remove and leave a sticky residue behind, which means that spring cleaning will take longer as you apply extra elbow grease.


Once your home is clean, do your best to instill clean living habits. Ask guests to remove their dirty shoes at the door. They track in far more than dirt, bringing mud, grease, gum, pollen, leaves and pebbles along, too. And do your best to clean up messes – especially dinner messes – promptly while spills are still simple to remove.
As long as you're in spring cleaning mode, you'll want to schedule your annual roof inspection with First Quality Roofing & Insulation. Your roof may require a cleaning, too – and you'll want to ensure it doesn't need a repair. While Johnson is media ubiquitous, think of First Quality as roofing ubiquitous when it comes to securing the safety of our customer's homes.