Keeping its exterior in tip-top shape adds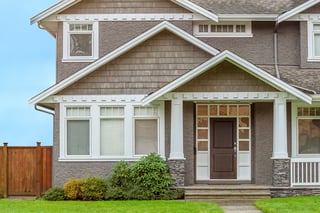 to a house's curb appeal, enhances the neighborhood and gives you renewed enjoyment and pride in the place you call home. Aside from the obvious fixes, like landscaping, pulling weeds and general clean-up, here are nine curb appeal ideas anyone can do to make their home more attractive to passersby.

Easy to find. Are your house numbers easy to see? New numbers complement the architectural style of your home can make a huge impact.
Under pressure. Use a power washer to clean up dirty siding, decking and driveways, as well as faded walkways.
Add some color. Many types of annual plants bloom year-round. Add some colorful flowers to window boxes, front beds, porch containers and along the walkways.
Let the sun in. One of the simplest fixes you can do is make your windows sparkle and shine.
Light up the landscape. Illuminate the walkways and entrances to your home with outdoor lighting. Solar lights are efficient and low maintenance, as in low-voltage lighting.
Refresh and renew. Painting the front door, shutters and trim is a quick and easy way to reinvigorate the look of your home. Throw in a cheery new welcome mat that complements the new colors.
Little touches. The entry lockset, a new mailbox and an updated overhead light fixture are all simple hardware elements that can add style and interest to your Las Vegas home's curb appeal. Make sure they function collectively, rather than mixing and matching them.
Add artistic elements. Outdoor art, including birdbaths, wind chimes, sculptures and fountains are all good choices. Water sculptures are particularly beautiful in Las Vegas and the soothing sound they create makes hot days feel cooler!
Look up. Many homeowners don't give their roof a second glance, but it's one of the most important curb appeal items others notice right away. Is your roof old, dingy, or missing some tiles? A roof replacement will instantly up your home's curb appeal.
Whether you're putting your house on the market or just want to make your home more welcoming, we hope these simple tips help add some beautiful curb appeal to your home. If you're looking for an experienced and professional Las Vegas roofing company, contact First Quality Roofing & Insulation at 702-262-7847 today.