Properly insulating your attic can be a great way to cut down on cooling costs during a Las Vegas summer, and it can also make your home warmer and more comfortable in the winter. If you are considering an upgrade to the attic insulation in your Las Vegas home, here are a few simple reasons to choose fiberglass blown-in insulation instead of roll insulation:
1. Better Coverage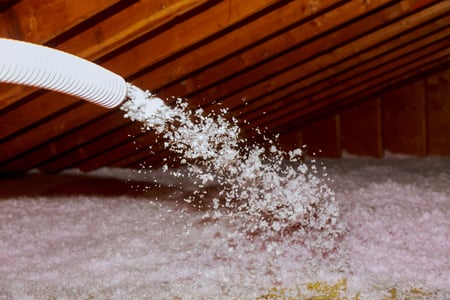 Blown-in fiberglass can fill in all the small, hard-to-reach areas between your attic's floor joists, providing better insulation coverage than fiberglass rolls or batts. Plus, it can be installed as thick as you'd like, easily reaching the US Department of Energy's insulation recommendation of between R-49 and R-60 for the attics of homes in the Las Vegas area.
2. Improved Air Quality
Because blown-in attic insulation fills all the gaps in your attic floor, it offers a better air seal between the living area and the attic that fiberglass rolls could. This can reduce the number of airborne contaminants such as dust, pollen, and mold spores in your home, improving your air quality and making your house more comfortable for those with allergies or asthma.
3. Fast Installation
Fiberglass batts or rolls take a long time to install. They must be cut length, inserted into the space between the joists, and stapled into position if they are kraft-faced rolls. Blown-in insulation is installed using a long hose and air pressure, making it a fast, efficient installation that takes less time out of your schedule.
4. Greater Comfort
Blown-in fiberglass insulation can significantly improve your comfort year-round. Its superior air sealing and insulating performance will hold on to your heat longer in the winter, helping to keep your home warm and cozy no matter how cold it is outside. In the summer, it will minimize the transfer of heat from your hot roof into the living space, keeping your home cooler and allowing the air conditioner to run less often.
5. Better HVAC Performance
Quality blown-in insulation will reduce the load on your heating and cooling systems. This will not only make them last longer and reduce your maintenance costs, but it will also help to keep your heating and cooling costs as low as possible.
Blown-in Insulation Services in Las Vegas
Do you need more insulation in your attic? Call our team at First Quality Roofing & Insulation. We have been serving the Las Vegas area for over 20 years, and we offer high-quality blown-in attic insulation and installation services, as well as complete roof repairs, roof replacements, drywall repairs, and more.
Call us today at 702-262-7847 or visit us online to schedule blown-in insulation services in Las Vegas, Henderson, Mesquite, Pahrump, or the surrounding areas. Your comfort is our top priority!