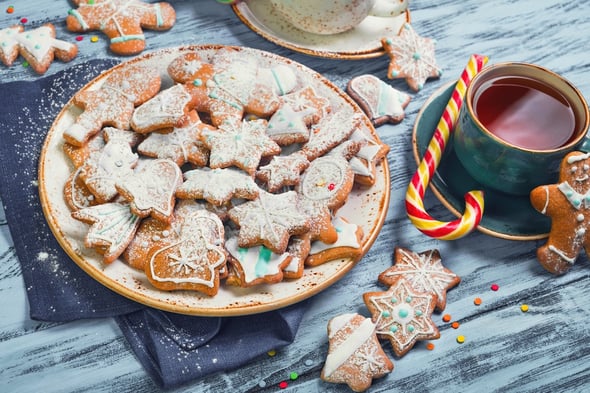 'Tis the season when visions of sugar plums dance in your head, so we've put together a list of some of our favorite holiday desserts sure to give you and your guests sweet dreams.
Desserts spelled backward is stressed, but there are quite a few amazingly delicious treats that require very little time and effort to make. Icebox Cakes are always a crowd favorite and a perfect choice when you're busy making a big meal and a ham or turkey occupies your oven. No oven necessary with an Icebox Cake, not too many ingredients and you can get as creative as you want.
Icebox Cakes
Icebox Cakes are made by layering cookies and a simple whipped cream mixture and/or pudding, then refrigerating until the cookies soften (about 12 hours). Layer Graham Crackers, a marshmallow and whipped cream mixture and chocolate for a S'mores Cake. We love using those addictive Girl Scout Thin Mints, layered with whipped cream and topped with crumbled candy canes. The combinations are endless. Pinterest has hundreds of Icebox Cake recipes, most are very easy.
Fun with Eggnog
Eggnog is a seasonal favorite for a lot of us and is not only a delicious drink, but a perfect ingredient for holiday desserts. Eggnog milkshakes are a fun idea. In a blender, mix vanilla ice cream, Eggnog and gingersnaps to create a simple, refreshing dessert for kids and adults. A recipe for vanilla cupcakes can easily be transformed into festive, holiday cupcakes by substituting Eggnog for milk. But one of our Nog favorites is rich and creamy, Eggnog Cheesecake. There are many ways to make cheesecake from easy to moderately difficult, but whichever way you choose, try making your Eggnog Cheesecake with shortbread crust. It's heavenly.
Finger Foods
It wouldn't feel like the holidays without cookies. Snickerdoodles, Gingerbread and don't forget the always fun to decorate, Sugar Cookies. Everyone has their favorite, and ours is White Chocolate Cranberry Cookies. They not only taste yummy, but they blend in perfectly with your holiday décor, boasting specks of red and white. They're soft and chewy, with just the right amount of tart cranberry to compliment the decadent white chocolate.
Dessert doesn't always have to be about pies, cakes and cookies. Peppermint Bark is an incredibly delicious treat and is so easy to make. It only uses five ingredients, that's it. And the final product can be enjoyed on its own or used as a topping on cakes and ice cream.
Bite sized treats can be a great addition to your holiday dessert spread. Peanut Butter Balls use only a few simple ingredients and are pretty easy to make, although your guests will think otherwise. Rum Balls are a traditional holiday favorite and also surprisingly easy to make. The great thing about these mini desserts is they can be made ahead of time and stored in the refrigerator until your holiday guests pop in.
We hope sharing a few of our favorite holiday desserts gave you some great ideas for your holiday gatherings. Be safe and enjoy the season!