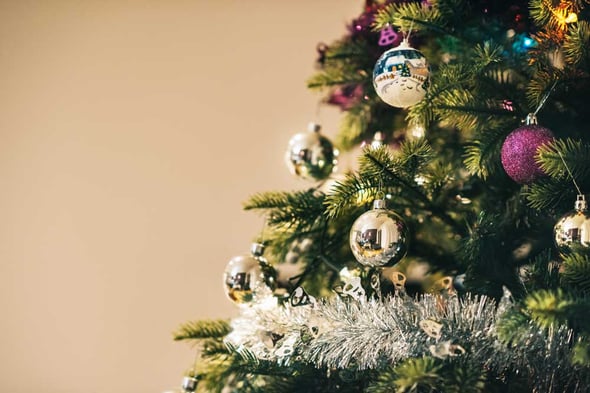 Let other people rush the joy of the season if they want to. You know that when you wait until the final days before Christmas to select and decorate a real tree, you enjoy its presence so much more.
The last thing you want is to see the comfort of your tree ignite into a horrific fire because you neglected to take a few basic precautions. Many people make this mistake; decorative lights are involved in about 150 tree fires every season and cause more than $8 million in property damage, the National Fire Protection Association says.
Let the most trusted and reliable roofing company in Las Vegas, First Quality Roofing & Insulation, share some timely home safety tips from the fire association, the Consumer Product Safety Commission and the Electrical Safety Foundation International to keep your tranquil domestic scene a constant source of quiet holiday joy.
Practice home safety by selecting a healthy tree
Plenty of people buy artificial trees, and if you're one of them, ensure that it is labeled "fire resistant." If you're determined to fill your home with the fragrance of a real tree, make sure it is healthy – and therefore less conducive to fire. A healthy tree features:
Lush, full branches in deep shades of green.
Resilient needles that put up some resistance when you try to pluck them from the branches. Also, tough needles may bend but won't break when you curl them in half in your fingers.
A trunk that is sticky to the touch with resin.
Practice home safety by keeping your tree healthy and hydrated
After you unwrap your real tree:
Cut about 2 inches from the bottom of the tree to expedite water absorption.
Position the tree far away from heat sources, such as your fireplace, oven and heat vents.
Check the stand every day to ensure that it remains filled with water. Expect a real tree to be unpredictable – absorbing little to no water one day and then draining the stand the next.
Practice home safety by lighting your tree with confidence
Keeping your tree healthy and hydrated will go a long way toward ensuring that it can withstand the heat of holiday lights. Go the extra mile by:
Never using lights that exhibit the slightest sign of damage.
Using only those lights sanctioned by Underwriter's Laboratory (UL).
Never connecting more than three strands of lights.
Matching the power need (known as the amperage) of every decorative light with the amperage rating of an extension cord.
Not overloading electrical outlets.
Plugging as many lights as possible into a power strip to minimize the use of extension cords.
Checking that cords are not pinched by furniture, doors, windows or other heavy objects or placed under rugs or near heat sources. Cords that are compromised in this way can become fire hazards.
Turning off the lights before you leave the house (even for a short time) during the day and go to sleep at night.
Once you're done hanging your tree lights, your outdoor lights might be next on your to-do list. In this case, be sure to read our helpful article, "Hang Outdoor Holiday Lights Like A Pro." And remember that First Quality is only one phone call away if you happen to discover a problem with your roof – before Santa spots it first.