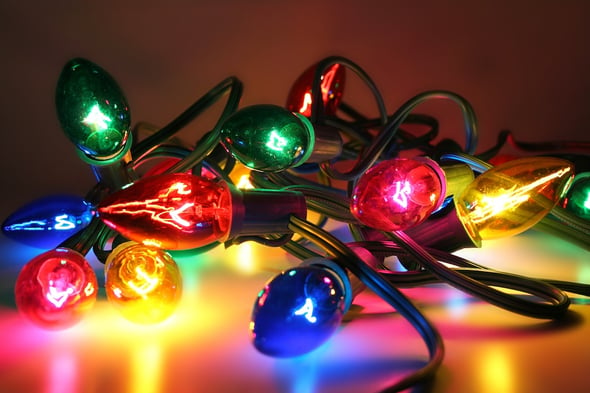 It's supposed to be "the most wonderful time of the year" – at least until the outdoor lights are safely hung and, of course, working as they should.
If it's true that many children hear their first bad words as they watch a parent wrestle with outdoor lights, make your New Year's resolution early: learn how to hang outdoor holiday lights like a pro after heeding some tips from the people who know quite a bit about traversing the outdoors on ladders: First Quality Roofing & Insulation.
Invest in planning first
Before you start hammering nails and securing hooks, take a step back and do a little planning. It could save you hours of time – and aggravation:
Set the main stage. Columns probably are the focal point of your front elevation; they should be the focal point of your holiday light display, too.
Set the secondary stage. Other fitting places for holiday lights include: along the roof line, on posts and railings, around windows and door frames and along driveways and walkways. If you're unsure about how many lights to hang, plan by the rule of "less is more." You can always add more lights later.
Ensure you have sturdy surfaces to work with. Unless you want to spend hours patching holes in the spring – or have First Quality do the work for you – ensure that your home's wood, siding, gutters and shingles are thick enough to sustain a mounting device for your lights.
Measure and coordinate. Measure the straight surfaces you wish to decorate with lights. This way, you'll know how many strings of lights you need – and minimize mad dashes to the store. Also measure the distance to your power source, being sure not to overload it.
Show restraint with trees and shrubs. For every 1½-foot tree or shrub, plan on using about 100 lights. So if you have a 6-foot evergreen in your front yard, you will need at least 400 lights for a moderate level of lighting.
Heed safety rules with holiday lights
Before you begin to hang your holiday lights, be sure to follow some safety tips from the Electrical Safety Foundation International to protect your family against electrical shock and fire hazards:
Inspect all your extension cords, lights and other electrical decorations to ensure they are in good condition. Throw away any device that shows signs of cracked sockets, frayed wires or loose connections.
Ensure that your extension cords, lights and other electrical decorations carry a tag that specifies they are approved for outdoor use.
Match the power needs – otherwise known as amperage – with the amperage rating of your extension cords.
Plug all outdoor cords, lights and other electrical decorations into circuits protected by ground fault circuit interrupters (

GFCIs

).
Ensure that spotlights are well-ventilated, protected from weather and are situated far away from flammable items.
Keep all extension cords and light strings away from snow and standing water.
If you're like many Las Vegas homeowners, you might discover some suspicious-looking roof condition as you go about hanging your holiday lights. In this case, don't hesitate to contact First Quality Roofing & Insulation. The holidays should be "the most wonderful time of the year" for you and your family -- and First Quality wants to be there to ensure it is.