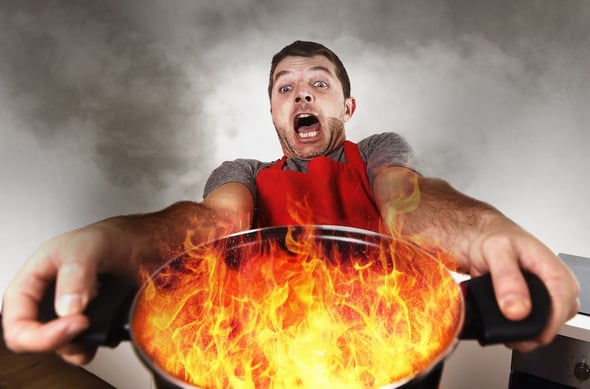 More than turkeys, mashed potatoes and green beans cook in most American homes around the holidays. Fires, do, too, making the holidays the most common time of the year for residential fires.
Three times as many kitchen fires break out on Thanksgiving Day than on any other day of the year. But Christmas Day and Christmas Eve also prove treacherous, according to the National Fire Protection Association. A recently released association report found that between 2010 and 2014, U.S. fire departments responded to an average of 166,100 residential fires that involved cooking equipment per year and that:
Ranges or cooktops accounted for 62 percent of the fires.
Unattended cooking was the leading cause of these fires.
More than half of all kitchen fire injuries occurred when the victims tried to fight an out-of-control fire themselves.
If you're going to raise the roof this holiday season, you want it to be by receiving compliments for your cooking skills, not by unwittingly starting a kitchen fire. Let the most trusted and reliable roofing company in Las Vegas, First Quality Roofing & Insulation, share some tips from the fire association to keep you safe.
Las Vegas home safety means taking sensible precautions
Never leave cooking food unattended.
Turn pot and pan handles toward the back of the stove.
Use the back burners as much as possible, even though it may be less convenient for you. The position will make pots and pans less likely to fall – and less likely to be grabbed by the hands of little people who don't know any better.
Set a timer when you're cooking, especially if you're cooking multiple dishes at once.
Never use extension cords in the kitchen. Frayed or overloaded cords can trigger fires.
Las Vegas home safety means cooking with oil like a pro
Always heat oil slowly to the temperature you desire.
Add food gently to a hot pot or pan filled with oil so that it does not splatter.
Be alert for smoke emanating from a pot or pan drizzled with oil. It is a danger sign that the oil is too hot.
Las Vegas home safety means practicing fire safety
Keep a fire extinguisher nearby. If you don't have one, baking soda can be used to extinguish a flare-up or small fire.
Keep flammable objects – food packages, towels, oven mitts, paper towels – away from the stovetop.
If a fire starts in the oven, turn it off and leave the door closed until it goes out.
Always keep a lid close by to smother a small fire. Slide the lid over the pan and turn off the burner.
If a fire gets out of hand, leave your home and call 911.
Of course, accidents happen even when people are vigilant about kitchen safety. So if you happen to need a roof inspection or repair over the holidays, call First Quality. We don't take a break around the holidays because we always want to be there when you might need us -- especially when you might need us the most.