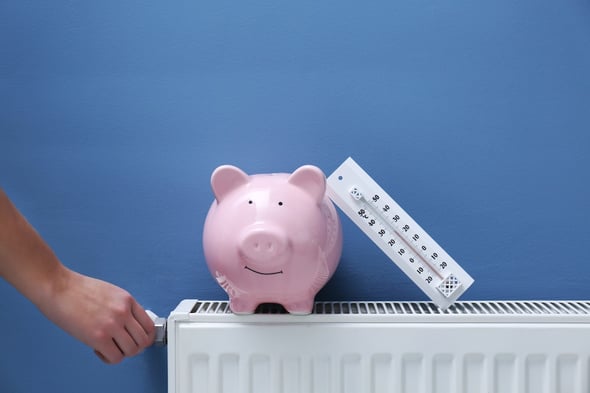 Though winter may be relatively short and mild in the Las Vegas area compared to many other parts of the country, the cost of heating your home can add up quickly over the colder months. Here are a few money saving tips that can help you cut your heating bills without sacrificing your comfort:
Keep Your Heating System Maintained
A heating system that is in poor condition will have to work much harder than necessary to keep your home comfortable, increasing your heating costs dramatically. To make sure your heating system is operating as efficiently as possible, have an HVAC professional inspect it at the beginning of the heating season and perform any routine maintenance that is required, such as cleaning the burners on a furnace, cleaning the coils of a heat pump, cleaning the blower fan or changing the air filter. Check the air filter yourself monthly, and consider installing a humidifier to counter the drying effects of forced air heating and to make your home feel warmer at a lower temperature.
Seal and Insulate Your Home
Air leaks and an inadequate amount of insulation can make it harder for your home to stay at a comfortable temperature, requiring more frequent use of the heating system. Add weatherstripping to drafty doors and use caulk or weatherstripping to seal around your leaky windows. Wherever wires, pipes, dryer vents and other services penetrate exterior walls, seal the openings with caulk or expanding foam insulation. To make finding air leaks easier, use incense near doors, windows and other openings on a windy day, and watch for the smoke to change direction near possible air leaks. Have a professional evaluate the amount of insulation in your home, and add more if necessary. Many homes in the United States have inadequate or poorly-installed insulation, and by making sure your home is properly insulated, you can save money throughout the year, in both the heating and the cooling seasons.
Install a Programmable Thermostat
If you are keeping your home at consistent temperature regardless of whether you are home, asleep or at work, you are most likely spending too much on your heating bills. One of the simplest and most effective money saving tips is to install a programmable thermostat and have it adjust the temperature automatically while you are at work or asleep. This alone can cut your heating costs by 10 percent or more. Simply have the thermostat reduce the temperature by 10 to 15 degrees when you leave the house or go to sleep, then have it return the temperature to normal about an hour before you arrive home or wake up. Doing so allows your home to remain comfortable when you are at home and awake, but saves energy and money while your home is unoccupied or while you are sleeping peacefully under heavy winter blankets.
For more money saving tips, talk to our team at First Quality Roofing & Insulation. We provide affordable, high-quality roofing and insulation services throughout the Las Vegas area.