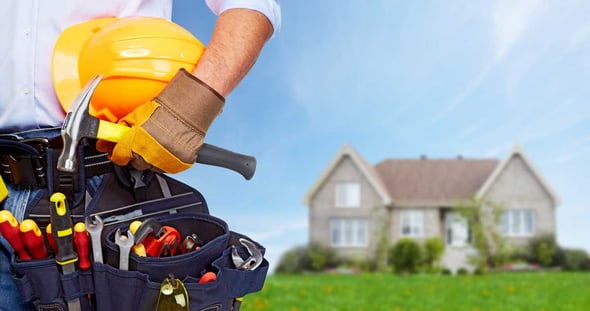 If you've owned your own home for a decent amount of time, you're most likely on a first name basis with your electrician and plumber. Their services are needed fairly often over the years. But putting a roof on your home usually occurs once or twice at the most. And roofs are built to last – so, unless disaster strikes, they rarely need major repair work. Most homeowners have little experience, then, with hiring a roofing company.
When you find yourself in need of a Las Vegas roofing company, it pays to take your time before hiring to do a little homework. Unless your roof is leaking and needs emergency repairs, the time you spend finding the roofing company that is right for you will literally pay off for years to come. Here are four simple guidelines to get you started. We believe they're the basis of a quality roof repair or replacement company, and should be a big part of your decision making process.
Free Estimates & Flexible Scheduling
At First Quality Roofing & Insulation, we believe that exceptional roofing services should be available to Las Vegas homeowners at a price that fit their budget. We offer free, courteous roof estimates, and we will work around your schedule, not the other way around. And when we say we'll be there at noon, we'll be there at noon!
No Obligation – No Hassle – No Pressure
First and foremost, our highly-trained estimators listen to your needs and concerns. No roofing company should pressure you into making a decision before you're ready. And it definitely shouldn't hassle you to purchase a specific type of roofing material or service. Our job during the estimate phase is to inform you of your options, period.
Most importantly, trust your intuition. You have to pay attention to your gut reaction when hiring a contractor to come into your home. If the Las Vegas roofing company you're talking to rubs you the wrong way, don't be afraid to back out. A roof is a major investment and you need to feel comfortable with the company and crew you'll be working with.
No Guesswork
When our estimators come to your home, they bring with them real, physical samples of roofing materials. Pictures or verbal descriptions aren't enough. You need to see the real deal before you make a final decision. It's how we guarantee there'll be no surprises come installation day.
Competent Supervision
A roofing job requires a qualified, professional supervisor to oversee the crew. It's the only way to guarantee that the job goes according to plan and remains on schedule. Our supervisors are there to make sure your roofing job is completed to your specifications and satisfaction!
First Quality is the Las Vegas roofing company to hire if you're looking for excellent repairs or replacements from a business you can trust. We invite you to download our helpful guide on what questions to ask when choosing a roofing company. Then contact us at 702.262.7847 to schedule your free, no obligation estimate.