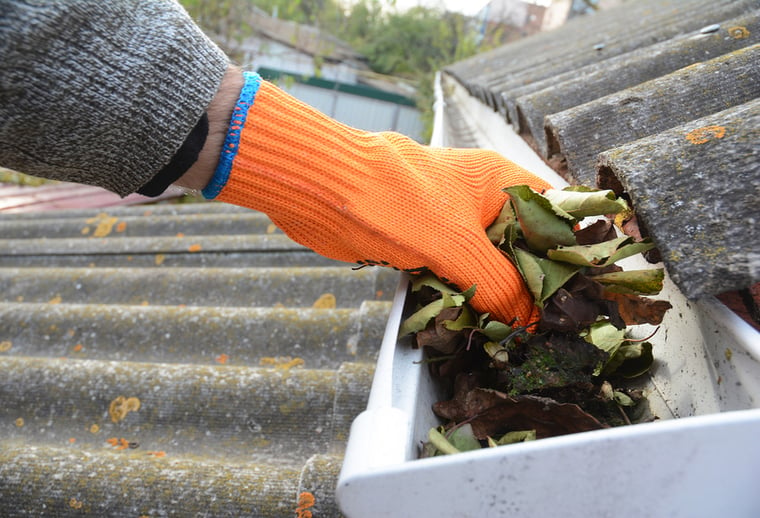 Clogged gutters can turn into a nightmare before you know it. All it takes is a little leaves and rain to create a blockage that can lead to damages that impact your gutters, roof and even the inside of your home. Proper gutter cleaning is one of the best ways you can preserve the integrity of your exterior. Unfortunately, attempting to clean the gutters yourself can also lead to damages to your own health. Before you get into your gutters, consider these common hazards.
Ladder Safety
Did you know that falls are a major cause of death in our country? Sadly, many homeowners incur severe or life-threatening injuries each year due to accidents which include falling from ladders. The National Safety Council recommends that you always use an appropriate ladder, rest it on a firm foundation, climb with care and have someone standing by to assist you. Even by taking all of these precautions, it is still possible to sustain a major injury while cleaning your gutters.
Mold Inhalation
Although it's not uncommon for many roofs to have mold or mildew develop over time, that doesn't mean that these fungi are safe. The bacteria, mold and potential diseases that thrive in the wet and dark spaces clogged gutters provide are very harmful to your health. By inhaling spores or touching the clogged debris, you could potentially get sick and spread it to your family.
Electrical Wiring
When a heavy storm rolls in, it can damage anything in its path — including electrical wires. These dangerous wires hanging over or on your roof can easily turn into a safety hazard, especially if your gutters have pools of water or if you have a metal roof. These damaged or loose wires must be avoided at all costs.
Void Warranty
Even though you're cleaning your gutters as responsibly as possible, there's always a chance you can damage them. Not only will this impact the effectiveness of your gutters, but it may also void any warranties you have on your gutters or roof. It only takes a moment for you to accidentally disrupt your gutter system and dent your budget just as severely.
Let a Professional Handle Your Gutter Cleaning
Your roof and gutter system are important investments — but they're not as important as preserving your own health. Consider hiring the roofing experts at First Quality Roofing & Insulation take care of your gutters for you. Our Roof Maintenance Program includes annual gutter cleaning and large debris removal, leaving your gutters clog-free.
First Quality Roofing & Insulation is here to tend to all of your roofing maintenance and gutter cleaning. Visit our blog for more helpful tips and call us today at 702-262-7847 to schedule an appointment for professional gutter cleaning.