Fall is the best time to prepare your home for the coming winter season. This is when you have the most time to ensure your home is energy-efficient, safe and comfortable during the chilly winter months. To help you complete all the necessary home maintenance tasks, here's a checklist to keep you on the right track:
Fall Home Maintenance Checklist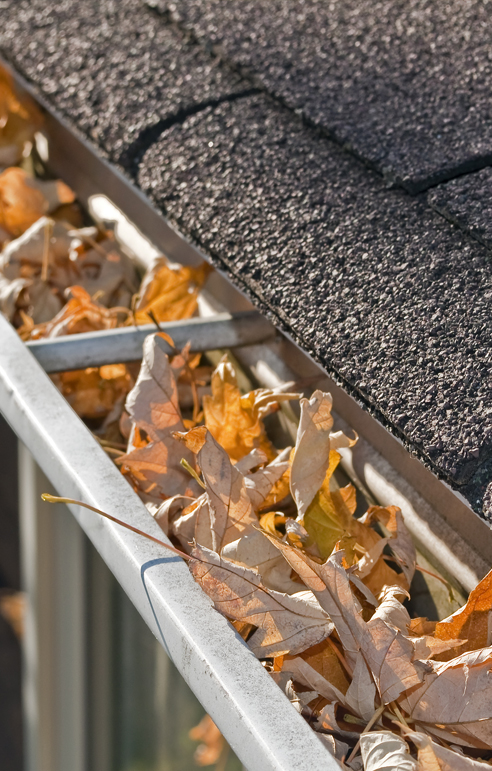 1.
Clean Your Gutters and Downspouts
Clogged gutters cause water to pool and not only damage your roof's siding, but also flood your home and ruin your exteriors. It gets worse during winter when water is highly likely to freeze in gutters, causing blockages. To avoid this, remove dirt and debris from your gutters and downspouts after most of the leaves have fallen to minimize the chances of buildup.
You can use a plastic spatula for this job as it is easy to clean, won't scrap your gutters and can be cut to fit into smaller spaces. Straighten bent gutters and replace old and worn-out ones to ensure that water drains properly away from your home. This is something the experts at First Quality can do during a roof inspection.
2.
Check for Drafts and Install Weather-stripping
According to statistics, windows and doors are responsible for about 30% of heat loss in your home, which can greatly inflate your energy bills. The first step to curbing this is checking for drafts to establish where you are losing heat from. You can do this by simply closing your door with a piece of paper in between the frames. If you can easily pull the paper out without struggling or ripping it apart, you need to reinforce your weather-stripping.
3.
Seal Entry Points
As fall gives way to winter, bugs, rodents and other animals will likely try to enter your home for shelter. Critters like rats can get into your attic and ruin your insulation and wiring. They can even invade your pantry, damage your belongings and even spread diseases. As part of your home maintenance, you should identify possible gaps that may give pests access into your home, and then seal them. You can then use fill fabric, caulk and sealants to cover the gaps and keep animals away from your home.
4.
Conduct an Energy Audit
Have a trained expert assess your home's energy-efficiency during fall to help you prepare for the winter. An energy audit will help you figure out what is responsible for your high energy costs, as well as identify improvements you need to make for your home to be more energy-efficient. Your energy auditor will give you recommendations on the best appliances, materials and practices to help keep your home comfortable and functional without increasing your energy costs. Whether it is installing energy-efficient roof shingles or upgrading your attic insulation, it is best to get this done before winter comes.
5.
Clean Your Chimney
You will be using your furnace or fireplace more during the cold weather, so you need to ensure it is in good condition. If you are used to burning wet wood, chances are you have loads of gunk in your chimney, as wet wood produces more soot than dry wood. The creosote and soot can build up in your chimney and can easily ignite and cause a fire to break out when you use your fireplace.
To avoid this, you need to ensure that your chimney is free of soot and creosote before you begin using it. If the amount of creosote is more than ¼ inch, or the soot keeps falling into the firebox, it means you have too much of a build-up that you need to get rid of. Clean out your chimney and change the furnace cap to ensure your fireplace is ready and safe for use during winter.
6.
Cut off the Water Supply to Exterior Faucets
Your home's pipes can easily bear the brunt of the chilly weather conditions when water that flows through it freezes. To prevent your pipes from bursting, cut off the water supply to outdoor faucets and also drain the hoses and store them. This ensures that you won't be dealing with plumbing issues when winter arrives.
7.
Check Your Attic Insulation
Inadequate insulation means your home won't be well protected against extreme winter temperatures. Take a look at your attic insulation and see if the joists are visible. You can also measure your insulation thickness to establish whether you need to add attic insulation or not. If you can see the joists, or your insulation thickness is less than the recommended 10 - 14 inches, contact a professional for attic insulation services to save on energy costs and keep your home comfortable.
8.
Inspect and Repair the Exteriors
There is no better time to repair the faulty exteriors of your home than fall. If you think your walls could do with a fresh layer of paint, this is the time to do it. You should also have the problematic areas of your roof repaired and fill in any cracks on your foundation.
It is advisable to contact a roofing expert for a roof inspection and repair due to the dangerous nature of the work. Roofing professionals are also better qualified to identify roof problems that may not be obvious to the untrained eye. Repairs as part of your fall home maintenance project ensure your home is well equipped to handle the impending cold weather.
9.
Test Your Smoke and CO Detectors
Your smoke and carbon monoxide detectors will come in handy when you start using your furnace more often. You should check them to ensure they are in good working condition and replace dead batteries. Dysfunctional detectors during winter put and your loved ones at risk of toxic carbon monoxide since you will have your windows and doors shut most of the time while the furnace or fireplace is on.
Don't forget to check your fire extinguisher's expiration date and replace it if need be. Also, have your home tested for radon as it is highly likely to be trapped in your home during the chilly season when you are locked in most of the time. High levels of radon may lead to lung cancer, so have a qualified expert fix it in case it is over the safe limit.
10.
Trim Your Trees
As most plants shed their leaves, you want to trim the trees around your home before winter sets in. Decaying branches and limbs can easily be blown off by strong winds causing them to fall on your roof. You will also be doing your roof a favor trimming the nearby trees as it reduces debris on the roof that may encourage moisture retention and mold growth.
Insulate Your Home and Repair the Roof before the Cold Season Kicks Off
For roof inspections, repairs and attic insulation First Quality Roofing & Insulation has you covered. Contact us at 702-262-7847 for expert and reliable home maintenance services to keep your home comfortable and protected.