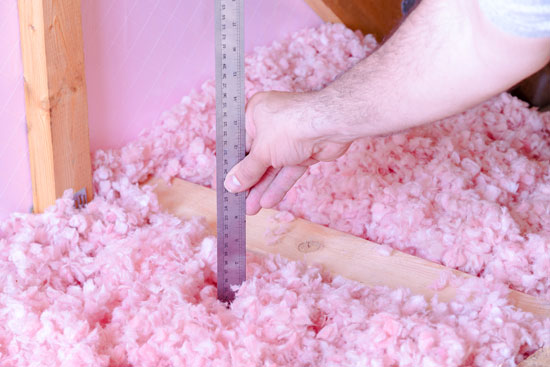 A well-insulated home is important in any location – but with the blazing summers and cool winters in Las Vegas – it's a necessity. In home insulation, there's no one-size-fits-all solution, but insufficient insulation can cost you thousands of wasted utility dollars while causing your heating/cooling system to wear prematurely.
Installing blown in attic insulation not only improves the energy efficiency of your system, it lowers utility costs and cuts down on fossil fuel emissions. All home insulation products are rated by their particular level of thermal resistance, called the R-value. One of the most cost-effective materials used in the greater Las Vegas area is blown in insulation, which offers a highly efficient R-49 barrier against the variable temperatures in this region.
Proper placement is a must when installing blown in attic insulation, so homeowners schedule a consultation with a professional insulation specialist. After a complete home and attic inspection, your insulation professional will identify energy-inefficient areas and calculate how much insulation your home needs.
Here are several steps the installation team will take during the process of applying blown in attic insulation:
The attic will be cleared of any items and a temporary plywood walkway may be installed.
Gaps beneath the existing insulation will be sealed using an expanding foam – particularly around plumbing pipes, chimneys, joist gaps, electrical conduits and eave or soffit vents.
Protective covers or sleeves will be installed over all vents leading to the interior of the home.
Existing roof insulation will be removed and a radiant barrier will be installed to reflect outside heat and keep the fiberglass insulation cooler and more efficient.
Radiant insulation will also be applied to the knee wall (the short, vertical wall in the attic that supports the rafters) to prevent further heat gain or loss in the attic.
Reference lines will be drawn on several vertical areas of the attic to indicate how deep the insulation should be applied.
One technician will feed the hopper on the blower machine as another applies the material to the attic in a steady, sweeping motion until the desired level of fill is reached.
Contact First Quality Roofing & Insulation at 702.262.7847 and our insulation experts will visit you, evaluate your attic and see how we can help you save money through professional attic insulation. Schedule your appointment today!