Noticed a single roof tile or more is damaged or missing on top of your roof? It's important to schedule missing roof tile repair as quickly as possible after you notice it, as even small amounts of wind or rain can cause costly roof damage. A single missing roof tile may not seem critical, but your roof relies on layered tiles from the eave to the peak to create a continuous barrier against rain and the elements.
What Causes Roof Tiles to Slip or Crack?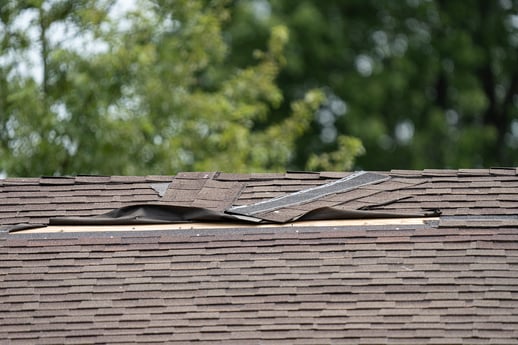 Clay roof tiles can be quite brittle, and they can easily be damaged by wind, hail, impacts from stones or baseballs or other external elements. With time, the damaged tile can slip or fall away completely. The nails that affix the tiles can also corrode with age, letting the tile slip, or they can be driven too deep, cracking the tile.
What Happens When a Roof Tile Fails?
A missing or damaged roof tile can cause a range of problems, including:
Damaged underlayment and leaks
Water, rot and mold damage in your home
Rotten roof decking and rafters
Pest infestations through roof openings
This is why it is important to schedule a roof inspection and missing roof tile repair as soon as you notice a problem.
Roof Tile Repairs
If you catch the problem early enough, one or two missing or damaged tiles can easily be replaced by carefully lifting the rows above and installing new tiles. If the missing tile is not repaired quickly, high winds can rip off more tiles and rain can damage the underlying decking, damaging more tiles as the roof begins to sag. In cases where the damage has spread, a full roof replacement may be in order.
Roof Repair in Las Vegas
When you need cost-effective missing roof tile repair in Las Vegas, Henderson, Summerlin or surrounding areas, call our team at First Quality Roofing. We feature skilled, professional roofers, upfront pricing for all roof repairs, and great financing options on roof replacements and repairs. We are fully licensed, state-certified roofing contractors, and we provide a full 10-year warranty on all new roof installations. Choose our experts at First Quality Roofing for all your roof repairs in Las Vegas. Call 702-262-7847 or contact us online to schedule roof services today.