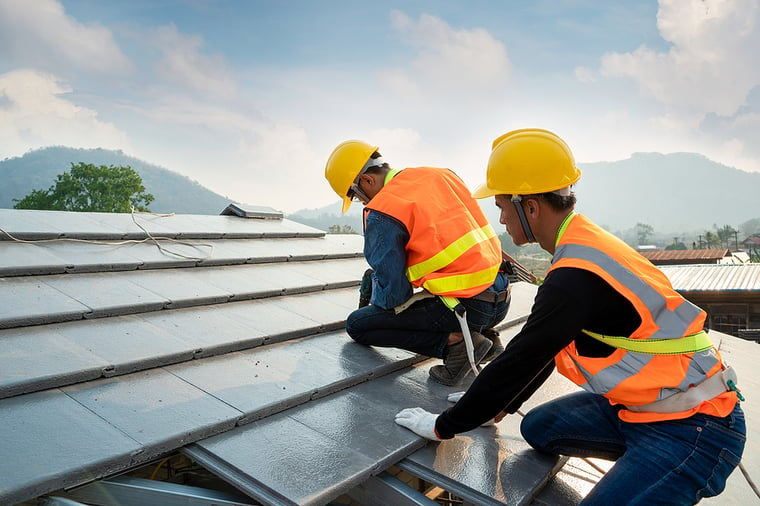 A roof inspection from a high-rated roof company can save you from roof failure and extend the life of your roof. Even if you haven't experienced it firsthand, you're aware of the expense and hassle of repairing a roof collapse. Catastrophic roof failure not only damages your property and valuables but is also dangerous. But you don't have to jump every time your roof makes a creek, by being a proactive homeowner you'll always know what's going on over your head, and you'll be prepared to repair or replace your roof when necessary. Through a practice of routine roof inspection, you'll stay on top of common sources of damage and minor repairs from an experienced roof company will give you years more life from your roofing system.
What Is a Roof Inspection?
If you've never had a roof inspection before, you may be wondering... what is it? First Quality provides a 14-point roof inspection to evaluate your roof for common sources of damage and signs of problems. A customer service expert comes to your home and checks your roof and attic for signs of damage.
Our trained roof technicians will minimize time spent on the roof, which is better for your roof in the long run. Time spent walking around on your roof may cause premature wear on tiles. Excessive foot traffic may require tiles replaced sooner rather than later. A roof company will give a thorough inspection without doing more damage with needless time spent on the roof.
What a Roof Inspection Checks
Some typical things we'll check for during a roof inspection:
Flashing: This is the metal used to divert water from the critical areas on your roof. Flashing is the galvanized steel in critical areas of your roof. If it shows signs of rust or if there are cracks in the surrounding caulk around the then water may penetrate the roof.
Shingles: Depending on your roofing system, it will show signs of wear and need replacement. Asphalt and wood shingles will crack and curl after a few decades. Slate, concrete, and clay will last for up to 100 years.
Penetrations: Any place where there's access through the roof, such as skylights, vent pipes, and chimneys, there's an opportunity for a roof leak. During a roof inspection, the sealing around penetrations gets checked for cracks, gaps, and excessive wear.
Stains: Dark spots and stains on the roof or in the attic are

one sign of a roof leak

. By finding these indicators early, a roof company can repair the leak early.
Gutters: Clogged gutters force water on the roof and along the side of the house to drain, causing water damage to the underlying structure. Old shingles will also shed their granules, showing they need replacement.
While you may think your roof looks fine, a roof expert has training to spot indicators of underlying damage, that won't become apparent until a roof failure, or major repair.
Regardless of the state of your roof, routine maintenance is an important part of home ownership.
What Can I Do to Maintain My Roof?
If you're a DIY homeowner, a basic understanding of the parts of your roof is essential, and although a thorough inspection and any repairs should be left to a professional, there are a few ways you can help to maintain your roof.
First, keep your gutters clear from debris, and in good condition. During or after rainfall, check your attic and ceilings for dark spots and streaks. Also, monitor your utility costs. You can sometimes attribute a sudden increase in heating and cooling costs to a problem with the roof.
Notice if your attic feels hot or damp, which might show a problem with your roof ventilation.
In reality, taking part in a maintenance program from a trusted roof company is the best way to provide regular care for your roof. Even the most ambitious DIY-er can miss underlying signs of roof damage. Roof experts have training to find the earliest indicators of problems or normal wear in roofing systems.
Why Roof Inspections Are Important
An important part of home ownership is just an awareness of the condition of your home. Knowing the state of all your home's fixtures, including the roof, lets you make timely and less expensive repairs instead of a major emergency home renovation.
Even a small leak from your roof can cause significant water damage if left unchecked. Once water corrodes the structure of your home, repair costs can skyrocket. A trained eye will find potential leaks early.
There are many ways your roof may not be functioning optimally. Improper ventilation, leaks, and signs of wear around penetrations may show in unexpected ways. Rising heating and cooling costs are a sign that there's a problem in the roof. A damaged roof can even cause a drafty home.
In a new home, not every problem is obvious to the untrained eye. Regular maintenance with semi-annual roof inspections will troubleshoot issues, saving you money in the long run, and making your home more comfortable.
With regular roof inspections, you'll know with plenty of warning when you must replace your roofing system. You can plan for the cost and the inconvenience of a full roof replacement. Instead of a sudden major home repair, you'll be prepared. Plus, with a roof maintenance program from a roof company like First Quality, you'll already have a relationship with a professional who's familiar with your roof. You'll know you're getting a quote and craftsmanship you can trust.
Extend the Life of Your Roof
The other benefit of regular roof maintenance is that you'll extend the life of your roof. No one wants to deal with roof replacement, but chances are it's something you'll have to sometime during the course of your home ownership.
A maintenance program quickly addressed common wear and tear, so your roofing system lasts up to its full lifespan or beyond. As long as asphalt tiles aren't shedding granules, just proper gutter care and regular inspections will keep your roof safe year after year.
First Quality Maintenance Program
We recommend an inspection in the fall and the spring, to make sure your roof is ready to withstand colder weather, and check for any damage sustained through the winter months. During these maintenance visits our skilled technicians will:
Inspect the Roof

Replace Broken Tiles

Re-seal Penetrations

Remove Debris

Clear Drains and Scuppers

Re-seal Coping Metal
While the program doesn't include replacement, but we will also:
Check skylights for cracks

Evaluate pigeon debris as needed
These semi-annual inspections will extend the life of your roof and eliminate the potential for surprise damage or unexpected roof failure. Participation in a maintenance program assures you that your roof will get the regular repairs needed to prevent roof failure. And you'll never lose sleep because you hear a creak or a groan from the ceiling, you'll know your roof from decking to tile. Contact us today at 702-262-7847 to learn more.