Living in Las Vegas means enduring scorching summers and chilly winters. Throughout the year, we rely on our HVAC systems to keep our homes at just the right temperature no matter what the weather brings. Unfortunately, poor attic insulation can cause these systems to work overtime as heat escapes the home.
The R value of your attic insulation plays an important role in resisting heat flow. This rating is displayed as a number; the higher the number, the more resistance. R valve ratings range from R11 on minimal fiberglass insulation rolls to R60 for the most heat resistance insulation.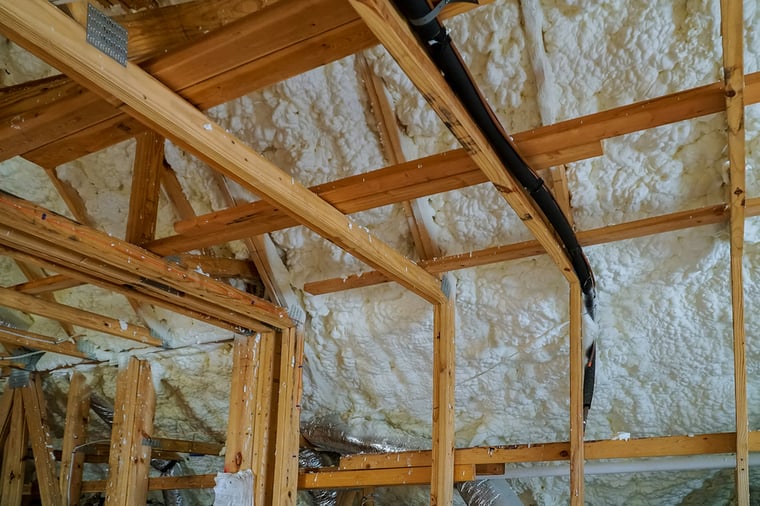 How to Determine Which R Value You Need
Every homeowner has different insulation needs and an individual home maintenance budget. Thankfully, there are many different types of insulation that can keep your family and your budget comfortable. Some of the insulation options available include:
Batt/Blanket Insulation, typically made from fiberglass, rockwool or cotton.

Spray Foam Insulation, a polyurethane.

Loose-Fill Insulation, usually composed of fiberglass or cellulose.

Structural Insulated Panels, either made from polystyrene or polyisocyanurate.
Each of these selections will have a different R value. The thicker your insulation is, the higher the R value will be. For example, fiberglass blanket insulation has a lower R value than spray foam insulation. Although the fiberglass blanket may be more affordably priced, you may spend more money on energy bills over time. On the other hand, investing in insulation with a higher R value rating can help you lower your energy expenses for years.
Choosing the Right R Value Insulation
Your attic insulation is an important line of defense that preserves your home's comfort. By selecting insulation with a high R value rating, you can keep your home cooler in the summer and warmer in the winter. You can also improve your home's ventilation and reduce moisture buildup. Most importantly, choosing the right R value insulation for your home will lower your energy bills throughout the year.
Improve your home's energy efficiency with superior quality attic insulation from First Quality Roofing & Insulation. Contact us today and one of our knowledgeable service technicians will evaluate your current insulation and propose a solution that delivers optimal comfort.
Don't let your under-insulated attic turn the heat up on your budget. Let the experts at First Quality Roofing & Insulation take care of the insulation needs for your Las Vegas home today.