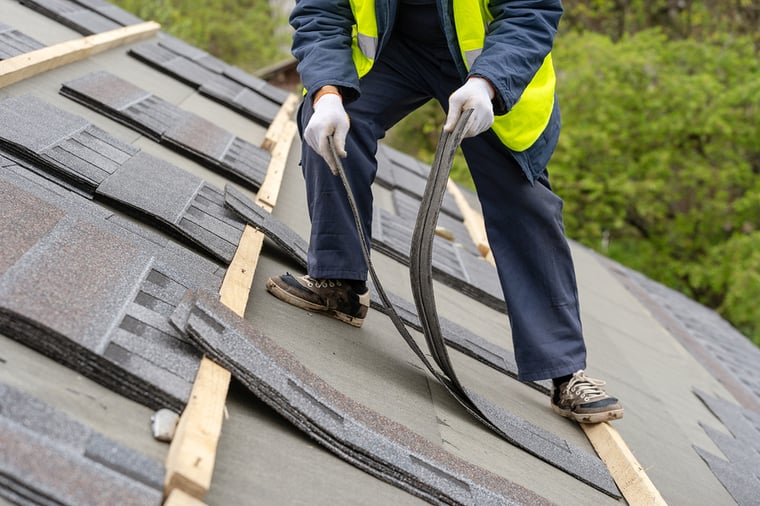 Your roof is an important investment. It keeps you, your family and your possessions safe for decades. It also enhances your curb appeal and prevents weather from ruining your interior comfort. As such a vital resource that impacts your lifestyle on a day to day basis, we understand that you want as much of a guarantee as possible that your roofing materials are going to go above and beyond.
Your roofer should do the same. How can you tell a professional roofer from a poor-quality contractor? Here are a few things to keep an eye out for:
They should be licensed and certified by the state your home is in. Even if they are licensed and certified in another state, they still need to be qualified in your home state. Local contractors are also informed of all rules and code regulations they must abide by in your specific neighborhood.

Be wary of those reaching out to you. Although many roofing companies send out mailers to generate new business, be cautious of any contractors that knock on your door after a severe weather event. These individuals are known as storm chasers and they may try to take advantage of you.

Know what a fair price is. There's a difference between an affordable roofer and a cheap roofer. An affordable roofer gets the job done resourcefully and passes the savings on to you. A cheap roofer uses cheap materials and poor workmanship to make a quick buck.

They need to have insurance. Anyone doing work on or around your home needs to be insured with worker's compensation and liability insurance. These certificates protect everyone involved and are signs of a responsible, thoughtful contractor.

Check their reviews. Great quality speaks for itself. Search online for a roofer you're considering and you should be able to find honest, informative reviews regarding their business. The Better Business Bureau and the company's website testimonials are great resources to check.

Ask those you trust for their opinion. Get a first-hand account from your friends and family if you can. They'll give you their honest feedback and show you results to prove it.
Even the best roofing materials can perform poorly if installed by a roofer who isn't top-notch. As Las Vegas' trusted roofing professionals, First Quality Roofing & Insulation knows how much time, knowledge and expertise goes into roofing installation, repair, and maintenance. Our team of licensed, certified and insured roofing contractors have one goal — to protect you and your property by providing the best roofing services in the state.
Whether you're in need of a brand-new roof due to old age or if you've discovered a leak after a bad storm, you can trust that we'll take care of your problem quickly, conveniently and affordably. Call First Quality Roofing & Insulation today at 702-262-7847 and let our reputation for excellence exceed your expectations!