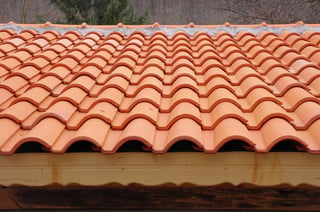 When you need a new roof, you'll want to find out what you should know to make the right decisions and make sure the process goes smoothly. From guidance on what color of roofing material to choose to how to prepare for the roofers, First Quality Roofing & Insulation has compiled a free guide containing everything you need to know.
Here's a brief sampling of some the information you can receive about Las Vegas roof replacement:
Can your roof be repaired rather than replaced?
A repair is sometimes possible, but a professional roof inspection will let you know for sure. If your roof is near the end of its lifespan, it should probably be replaced. And some types of damage, such as curled or buckling shingles, can indicate your roof is ready to be replaced.
How much will it cost?
The price of your Las Vegas roof replacement depends on several factors, including its size and slope (pitch) as well as the materials you choose. To help our customers, First Quality offers 100% financing with approved credit.
Will your homeowner's insurance pay for a new roof?
It depends on the details of your particular policy, but generally, damage from an unexpected event – such as hail or a fallen tree – is covered. Normal wear and tear usually isn't.
What options do you have?
If you decide to replace your roof, you'll need to decide whether you want to cover your existing roof with new material or tear off your old roof and completely replace it with a new one. Your roofer can inspect your roof's decking and make a recommendation partially based on its condition.
What color roof should you choose?
Several things should be considered, including the following:
Your home's exterior colors – You'll want to complement rather than compete with these colors.
Your climate – Light-colored roofs can help reduce indoor temperatures in very hot, sunny climates such as Las Vegas'.
Your home's resale value – A Las Vegas roof replacement in a neutral color that blends in well with homes in the rest of the neighborhood will enhance your home's resale value more than a brightly colored roof will.
How can you prepare for the roofers?
Having your roof replaced is very noisy, so you may want to be away from home during the workday. Pets should be secured inside or outside away from falling debris, or boarded away from home if they're bothered by noise. In addition, mowing your grass in advance will help make it easier for roofers to remove nails and other debris.
To find out more about Las Vegas roof replacement, download First Quality Roofing & Insulation's free guide to Frequently Asked Question about Roof Replacement. And if you need more help, have more questions, or would like to have one of our specialists check out your roof, contact us today at 702.262.7847!