No roofing material lasts forever. The harsh sun and heat in the Las Vegas area can shorten the lifespan of even the best roofing products. To avoid unnecessary damage to your home, and costly repairs, consider a roof replacement as soon as you notice any of the following issues:
1. Missing or Damaged Shingles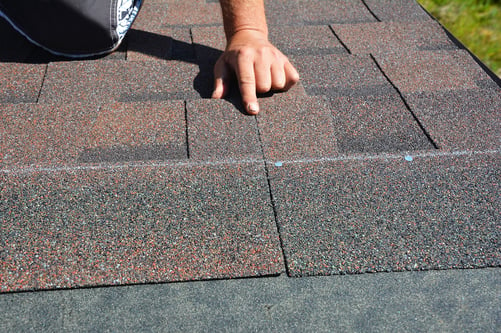 Asphalt shingles can curl, warp or crack in the heat. Clay or slate tiles can break, and the fasteners can corrode away. Wind and storms can rip shingles off the roof. Any missing or damaged shingles can lead to leaks, and if the damage is not limited to a small area, it may be time to consider a roof replacement.

2. Sagging Roof Deck
If the roof is sagging in the middle or looks wavy, the roof deck may be wet or rotten, or the plywood may be delaminating; the rafters or trusses may also be damaged. Usually, this is caused by leaks, and both the roof deck and the roof itself will need to be replaced.

3. Missing or Damaged Flashing
Metal flashing helps direct water away from vulnerable areas like chimneys, vertical dormer walls, porches, skylights, plumbing vents, and other features. With time, the fasteners can corrode or loosen, causing the flashing to fall off the roof, or the caulking that secures it to deteriorate. Flashing can also be damaged by hail and debris, as well as rust. Once the flashing is damaged, the rest of the roof is not far behind.

4. Water Damage
If you notice water damage or stains in the attic, or you can see daylight, there is a good chance the roof has been leaking. Since the leaks will only get worse with time, it is best to schedule roof repairs or a replacement as soon as possible to avoid costly damage to your home.

5. Uneven Coloring
If you notice darker and lighter areas on your roof or any kind of discoloration, it may indicate a problem. As shingles age, the color can change and the granules that protect the asphalt can fall off. Tree sap, moss, and plants can also discolor the roof and even damage the roofing materials.

6. Unappealing Aesthetics
If your roof just looks old, beat up, or damaged, it may be worth considering a roof replacement, especially if you plan to sell your home soon. A new roof can increase the curb appeal and value of your Las Vegas home and make it easier to sell.

7. Advanced Age
Many roof materials have a long service life, but they do not last forever. According to the International Association of Certified Home Inspectors, asphalt shingles and built-up roofing can last from 20 to 30 years. Our 14-point roof inspection can help you determine whether a roof repair or replacement is in need to protect your home and family.
Roof Replacements in Las Vegas, NV
Are you ready to replace the roof on your Las Vegas home? Talk to our team at First Quality Roofing & Insulation. We offer professional roof repair and roof replacement throughout the Las Vegas area, including Henderson, Mesquite, Pahrump, and beyond. We also make the process easy with great financing options. Call 702-262-7847 or contact us online to request a roof replacement estimate in Las Vegas today.