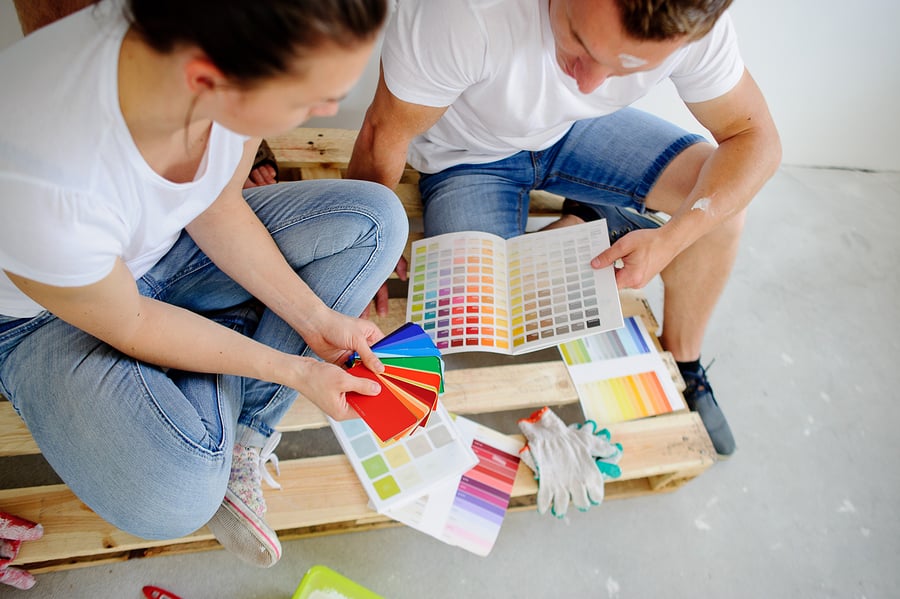 The colors you choose for your home will have a direct impact on your mood and will dictate how other people feel in your home. If you're trying to sell your home, this can influence the decisions of potential buyers. Additionally, if your exterior color scheme vastly differs from others in the neighborhood, it could impact how your property is listed among realtors. Because of these factors, it's important to keep the following in mind before choosing interior and exterior colors for your home:
How Color Influences the Mind
Different colors make us feel different emotions. Dark colors like black tend to make us feel negative emotions like sadness, so it is typically used sparingly in interior design. Red is another color that should be used strategically. Certain shades can incite anger, while others make us feel impassioned or excited. Red is a good accent colors as it adds vibrancy to a space in small amounts.
If you want to encourage productivity, consider bright colors that bring energy to a space, such as a light orange or yellow. For a relaxation area, deeper colors like blue or gray, or natural colors like green and brown elicit a sense of calm. If you have white walls, you can tie in the appropriate colors with various decorative pieces to achieve the mood you want. These can include furniture pieces, area rugs, wall art, table décor, etc.
Deciding Which Colors Schemes Are Best for Your Home
The colors of each room in your house should be chosen based on the room's function. Your bedroom, where you sleep, should have a relaxing color scheme, whereas your home office or other workspace should employ energetic colors. However, you don't want all the rooms in your house to be completely different. Although the primary colors of the rooms may differ, decorative pieces should be of similar tones, patterns or designs. This creates the proper flow and adds uniformity to your home.
It is also important that the primary tones of each room do not starkly contrast one another. For example, if you have neutral tones in one room and want to use brighter colors to another, opt for lighter shades of those bright colors, as darker, bolder shades will be too overt and detract from the flow of the house.
The same kind of thinking applies to exterior home design features, like roofing. Both tile and shingle roofs come in a variety of colors to complement your exterior color scheme. The professionals at First Quality Roofing & Insulation can help you determine which shades will look the best. Contact us today at 702-262-7847 to speak to a roofing expert and schedule your rood inspection.