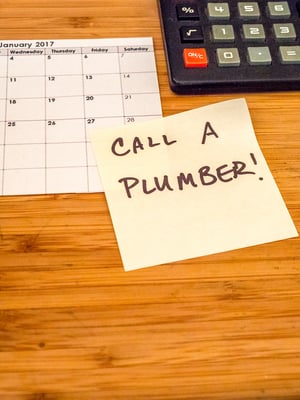 Home maintenance: such an important responsibility yet one that can be easily overlooked. If you're like many homeowners, you know how fast your to-do list can grow as the months pass by. Thankfully, there are a few simple tricks you can use to complete these tasks quickly and effectively. Here are five helpful tips that will prepare you to knock out your home maintenance to-do's in a flash:
Create a Home Maintenance Calendar
With so many areas of the house to care for, you may be unsure of where to start. Instead of wasting time wondering which tasks you should tackle first, create a home maintenance calendar at the beginning of each year. Marking these important duties down will help you stay on track throughout the year so that tasks like replacing air filters, cleaning gutters and draining your water heater don't fall by the wayside.
Divide Your Duties Room-by-Room
Although you have a comprehensive list of home maintenance tasks, organizing it by room can help you save time and complete whole areas of the home at once. For instance, if your spring checklist involves cleaning windowsills, dusting fan blades and organizing closets, complete these tasks in one room at a time. This ensures that you accomplish your home maintenance goals in each room and keeps you from feeling overwhelmed.
Complete Exterior Chores Top-to-Bottom and Front-to-Back
Similar to how you clean the interior of your home, checking off the outdoor maintenance items can also be streamlined. For landscape, work from the front yard to the back yard or vice versa. For exterior home maintenance, it's helpful to work from the top down. Start with checking your roof and gutters before moving down to your window screens and outdoor faucets.
Keep Your Supplies in an Organized Space that Is Easy to Access
Save time spent searching, as well as space around your home, by keeping your cleaning supplies corralled in a single location like the laundry room or hallway closet. Even the supplies you need sparingly throughout the year should be organized and accessible. For instance, keep a stock of air filters near your ventilation unit and create space in your garage to keep larger items like mop buckets and carpet cleaners.
Pair Related Duties Together
You can knock out many to-do's simultaneously. For example, keep a box of lightbulbs handy when cleaning fan blades so that you can replace them while you are up there. When cleaning outdoor windowsills, keep a bottle of caulking close by so you can patch holes where air can pass through. Pairing these duties together makes it easy to cross off multiple home maintenance tasks at once.
Need help identifying air leaks? Want to schedule a roof inspection? Contact First Quality Roofing & Insulation at 702-262-7847. Our experts will make sure your home is properly air-sealed and insulated, as well as ensure your roof is in good repair.