The roof is arguably the most critical part of your house. Besides protecting you from harsh weather, it provides vital structural support for electrical wiring, insulation, lighting, and interior decor. A meticulous shingle roof maintenance routine improves durability, ensuring you receive value for money during its lifespan.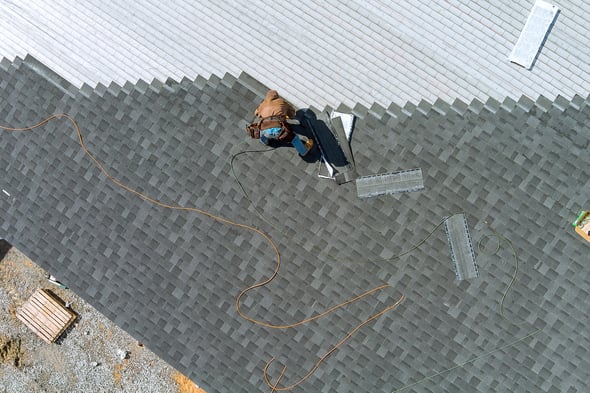 What to Look Out for During Shingle Roof Maintenance
You don't have to climb on the roof to find defects. Mold, mildew, peeling paint, drips, and water leaks are common interior indicators of roof problems. Although you can do it yourself, a professional roof inspection provides an exhaustive report on everything you need to repair or replace.
Tell-tale signs of roof damage or wear include:
Curling, missing, broken, or flapping shingles.
Excessive granule loss.
Damaged or rusting flashing.
Visible nails.
Moss, lichen, and other indicators of roof rot. Dry rot may also affect the fascia and soffit.
Clogged gutters and sagging ridge.
It's advisable to have a professional roof inspection at least twice a year, especially after the monsoon season and summer. The sooner you act on the report, the lower your repair costs will likely be.
The Comprehensive Shingle Roof Maintenance Checklist
Debris is among the first to look out for when surveying your rooftop. Twigs, leaves, and accumulated dirt can easily clog your drains, causing premature rotting. Your shingle roof maintenance strategy should include preventively trimming overhanging tree branches. Other considerations on your maintenance checklist include the following:
Inspect the attic and ceiling for leaks
Water stains inside the house indicate that your roof has holes requiring urgent repairs. Others include musty odors in some rooms, bumpy patches on interior walls, and stains on exterior walls.
Get rid of algae
It's easy to confuse algae for mold because they look alike. Although not as dangerous to humans, roof algae still have adverse effects. Apart from making it appear discolored, it can trigger the growth of harmful mold if left unchecked. It might also contribute to rotting, which damages the overall structure.
Clean the gutters
Your shingle roof maintenance checklist can't be complete without this essential tip. Clogged gutters force water to seep underneath the roof, accelerating structural damage. It's advisable to thoroughly clean them at least twice a year, preferably in late spring and early fall.
Reinforce past repairs
Listing all previous repairs makes it easy for future inspectors to understand your roof's strengths and weaknesses. They prioritize these sections to ensure the issues that prompted repairs don't recur.
Remember the exterior structural elements
These bits include chimneys, skylights, pipes, and vents. It's advisable to list each item separately on your shingle roof maintenance checklist for in-depth inspection. Points of interest include their level of cleanliness and signs of wear, such as peeling paint, fungus, rust, and rot.
Given their weight, chimneys can cause heavy damage to your roof and even foundation if their structural integrity is compromised. It's crucial to patch any cracks as soon as you notice them. Other notable indicators are bent, sagging, or missing components.
Post safety signage
Refrain from assuming everyone who goes into the attic or on the roof understands how every component works. Placing strategic signs could save you thousands of dollars in future repairs or prevent nasty accidents. Ensure your shingle roof maintenance checklist labels every location with electrical equipment, hot pipes, slippery sections, or harmful chemicals.
Find Your Perfect Roofing Solution
At First Quality Roofing, our superior services help you fulfill your shingle roof maintenance checklist. Apart from roof maintenance, we perform professional inspections, repairs, replacements, certifications, and insulation. Our highly trained and experienced technicians are always on standby to provide tailored solutions. We also assist with financing for eligible customers. Please call us at 702-262-7847 for more information.