Although winter and spring in Nevada are bearable, summers are notoriously hot. Home insulation in Las Vegas guarantees your family much-needed comfort. While most people think it only provides warmth during winter, it also keeps your house cool when needed.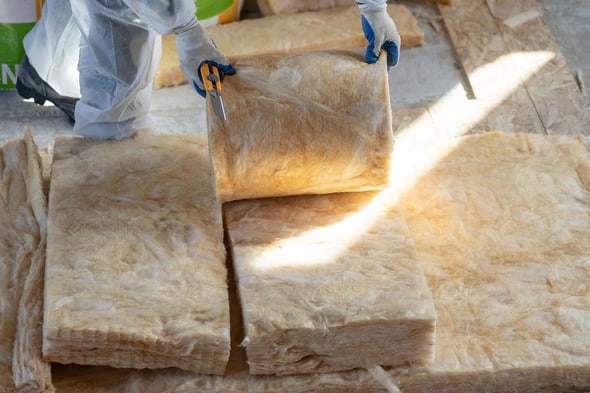 The Best Materials for Home Insulation in Las Vegas
Proper insulation regulates heat or cold flow through the attic, walls, and floors. Attic insulation in Las Vegas has several benefits, including improving humidity, air quality, and the lifespan of your HVAC equipment.
Fiberglass is a popular insulation material because it's affordable, readily available, and easy to install. While its familiar form is batts, it's also available in loose fill and rolls. Another option is spray foam insulation, which also helps with noise and humidity reduction. This type of insulation in Las Vegas prevents drafts by sealing off your home.
Rigid foam is a more heavy-duty insulation consisting of thick foam boards. Its pest and water-resistant qualities make it ideal for installation in damp locations such as basements and crawl spaces. Three main types of rigid foam insulation are polyisocyanurate, expanded polystyrene, and extruded polystyrene.
Finally, you may opt for cellulose material. Its loose-fill nature makes it suitable for insulating walls and attics. We recommend seeking the opinion of qualified roofing and insulation specialists to help you pick the best option for your Las Vegas home.
Benefits of High-Quality Insulation for Your Las Vegas Home
Insulation prevents your house from overheating, especially in the summer. In addition to general discomfort, this excessive heat can trigger health problems such as dehydration, sinusitis, and bronchitis. Energy efficiency helps improve your family's physical and mental well-being. Additional benefits of proper insulation in Las Vegas are:
1. Long-term cost savings
The best insulation materials can protect your house for decades without needing a replacement. According to the Department of Energy, heating and cooling account for nearly 50% of the average US home's energy bill. Insulation reduces this cost by significantly lowering your dependence on air conditioning to cool the house.
2. Higher property value
Every potential home buyer commissions a thorough inspection to determine its structural integrity. The inspection report covers the plumbing, roofing, electrical systems, and foundation, among other elements. For some, inferior insulation is a deal breaker, even if the other aspects are up to standard.
Premium insulation in Las Vegas further increases property value by preventing leakages, molding, and other preventable damage. The results are longer-term durability and higher return on investment for the homeowner.
3. Positive environmental impact
As building technology improves and environmental awareness rises, most homeowners increasingly opt for a zero-waste lifestyle. Superior insulation reduces greenhouse emissions by minimizing the likelihood of using dirty energy generated from non-renewable sources.
Additionally, insulation materials such as fiberglass contain at least 40% recycled content. This reusability reduces the exploitation of the world's natural resources. Recycling also reduces the strain on already unsustainable landfills.
4. Convenience
Besides regulating indoor temperature, insulation in Las Vegas increases comfort by soundproofing your house. The result is a calmer, more immersive experience for the entire family. Insulation also speeds up the building process because it is an alternative for some components, such as expansion joints.
Thermal insulation is also lighter and easier to install than concrete, reducing the roof slab's overall weight. Another beneficial quality is fire resistance. Knowing that your family is safe gives you much-needed peace of mind.
Affordable Insulation Experts in Las Vegas
First Quality Roofing & Insulation
is the best choice for premium insulation in Las Vegas. Our professional installation services ensure your family enjoys the highest energy efficiency standards outlined by the US Department of Energy. You might also qualify for our superb attic insulation rebate. Contact us today at 702-262-7847 for a free attic insulation evaluation.