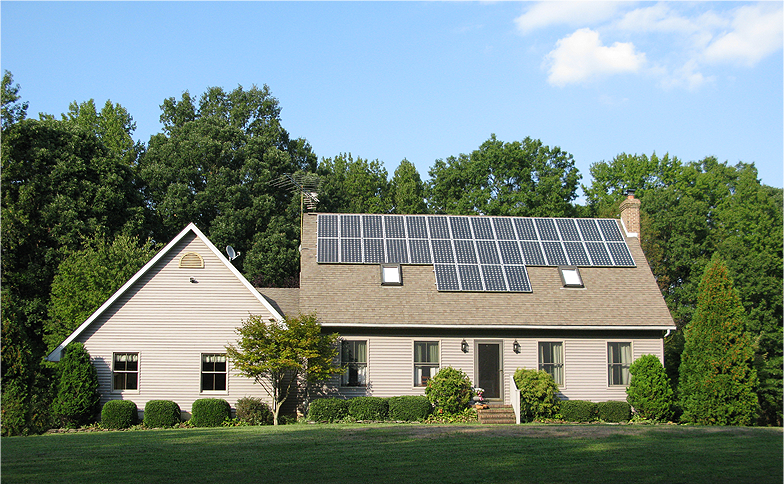 Like a growing number of Americans, you may be interested in having solar panels installed on your home. You love the idea of generating your own electricity while slashing your utility bill and doing your part to preserve natural resources. There's just one problem: you love the trees in your backyard, too. They provide shading in the summer and help keep your home cool, which helps keep your utility bills in check. However, the branches and leaves block sunlight from your roof, and since you know that direct sunlight produces the most energy for solar panels, you're in the midst of a full-on quandary: should you trim or remove trees for solar panels?
Determine Whether to Trim or Remove Trees to Make Way for Solar Panels
Questions about the Panels:
Is your home conducive to solar panel installation? South-facing roofs make the best hosts for solar panels, but a battery-backup can be used to bolster them.

How much would the system cost, factoring in a 30% federal tax credit that is available from the IRS until December 31, 2019?

How much electricity would solar panels generate for you? If the panels produce at least 6,000 kilowatts of electricity per year – an industry standard – and last about 25 years, you will produce a total of about 150,000 kilowatts of clean electricity.

How much would the panels reduce your "carbon footprint" in terms of gas emissions?

How much would the solar panels reduce your utility bills? Some homeowners report savings of nearly 40 percent, but in Las Vegas – one of the sunniest cities in the country – your savings could be even more.
Questions about the Trees:
How shaded is your roof? If your roof is partially shaded in the morning but basks in direct sunlight in the afternoon, the panels might be able to generate enough electricity to justify the investment.

What do the trees contribute to the environment? For example, a 30-year-old white oak can remove about 60 pounds of carbon dioxide a year; a red oak absorbs about 240 pounds.

Exactly how many trees are shading the roof, and can they simply be trimmed to allow more sun to shine directly on the roof?
Where does the math leave you?
If your concern is greenhouse gas emissions – and only emissions – solar panels stand to cut 10,000 pounds of carbon dioxide per year – a number that severely dwarfs the CO2 benefit of any tree. Nevertheless, the prospect of removing even one tree can be an emotional sacrifice for many homeowners. Fortunately, most homeowners for who've had solar panels installed have had to do little more than trim a few branches to accommodate the installation.
If you're unsure whether to trim or remove your trees for solar panels, contact us at 702-262-7847 to schedule a solar consultation. Download our free guide: Questions to Ask When Choosing a Roofing Company in Las Vegas to get more answers to your roofing questions.