It's time to get ready for the holiday season and drag out those old boxes of Christmas decorations. For many, this time of year just isn't the same without attaching Christmas lights to the roof. Unfortunately, many homeowners inadvertently damage their roofs in the process of installing their Christmas decoration, causing problems down the road. If you want to attach Christmas lights to your roof without undermining the integrity of your home, review some of these helpful tips for putting up roof decorations quickly, easily and safely.
7 Tips for Attaching Christmas Lights to Roof Exteriors
1. Untangle the Lights Beforehand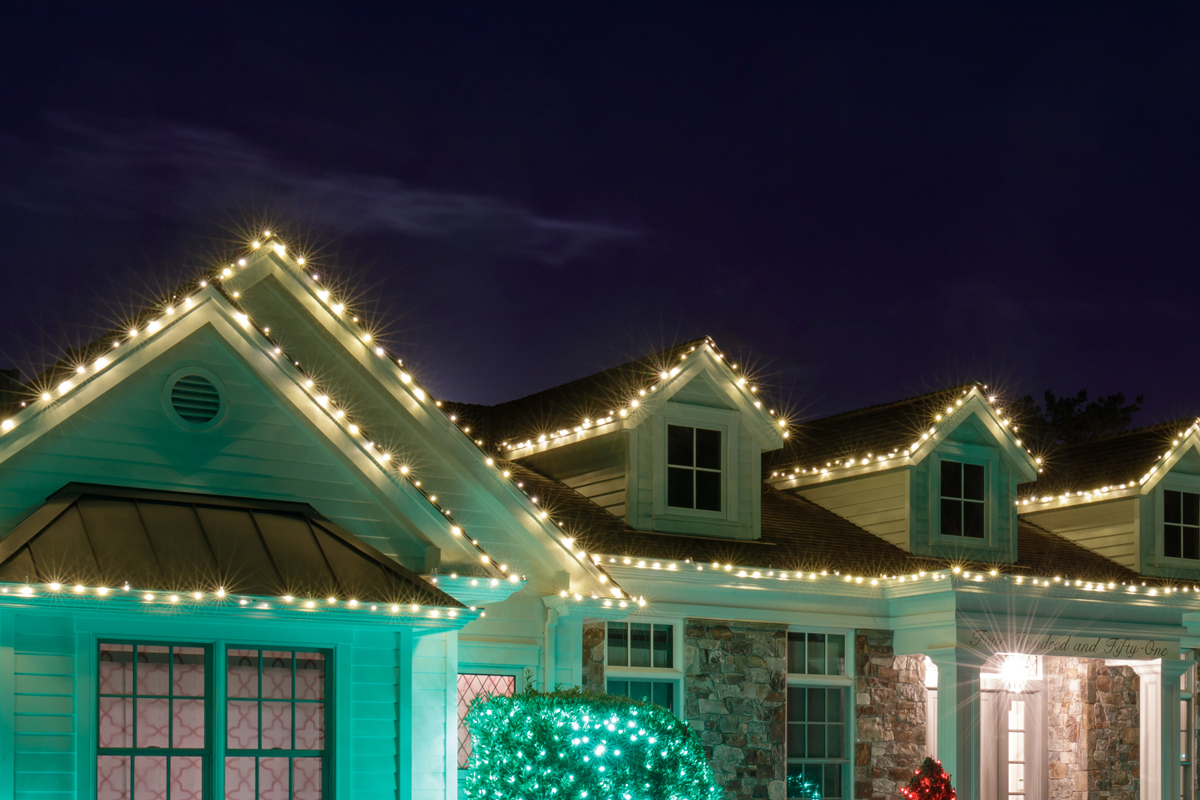 Somehow, boxes of Christmas lights always seem to be tangled up after sitting in boxes all year. Take the time to untangle these lights and lay them out. It can be frustrating and dangerous to attempt untangling the lights on top of a ladder. Untangling the lights beforehand also provides a good opportunity to measure the total length of your lights to ensure you have enough to decorate your home.
2. Test Your Lights First
Before you start attaching Christmas lights to your roof, take the time to inspect each strand of lights carefully for frayed wires or broken bulbs. Also, plug in these lights to test that they're functioning properly. Some strings of lights will not work at all if just one bulb is broken. Often times, that bulb can be replaced and the lights will be working again, so don't throw your lights away if they don't work immediately. There are devices available on the market that can check the circuits in your Christmas lights to pinpoint exactly which bulb is the source of the short. However, if your lights are in severely damaged condition, it's best to buy new ones.
3. Use Plastic Clips, Not Staples
There are many types of plastic clips available to attach Christmas lights to your roof without puncturing the home with nails or staples. These clips come in a variety of styles, allowing you to hang lights from your gutters or eaves easily. These clips also make the task of taking down the lights later much less time consuming. Using staples or nails will create potential points of entry for water or pests to get into your home, while plastic clips leave no trace and can be used many times over. If when installing your Christmas lights you notice damage along the eaves or fascia from a previous owner, get in touch with a roofing professional to conduct an inspection and complete any needed roofing repairs.
4. Avoid Walking on the Roof
Don't get onto the roof if you can help it, especially in wet or windy conditions. It's much safer to put up lights from a ladder safely secured to the ground. As a rule, ladders should be inspected before use to ensure there are no missing rivets or other issues. If you're using an A-frame ladder, make sure all four feet are firmly seated on the ground before climbing and have a spotter on the ground holding the ladder. For extension ladders, use the 4 to 1 rule which states that for every 4 feet of height against a building, the base of the ladder should be set back one foot. So, for instance, if you are climbing to an height of 8 feet, the base of the ladder should be set 2 feet away from the edge of the house. Again, always have a spotter holding the ladder.
5. Get a Helper
Aside from holding the ladder, a helper will speed up the installation process by handing you lights or tools so that you don't have to constantly climb up and down the ladder. Also, if an accident were to somehow occur, your helper will be there to get assistance right away. Attaching lights to your roof by yourself is dangerous and should always be avoided.
6. Don't Overload Outlets
Christmas lights can pose a potential fire hazard for your home, especially if you're plugging all your lights into the same outlet. Piggy-backing as it's called, is plugging many lights on top of one another on the same outlet. This can potentially overload the outlet, short out your lights and create an electrical fire. Resolve this by spreading out where your lights are plugged in outside your home. Also, consider using surge protectors. These devices will automatically turn off all power to the lights if there is a sharp spike in voltage. A few surge protectors will go a long way to alleviate potential fire hazards while you're asleep or at work.
7. Remove the Lights with Care
Christmas lights should be removed in much the same way they were installed. Even if you used clips to install your lights, avoid pulling the lights down from the ground. This will not only damage your decorations but may also snag on the gutter or shingles, causing damage. Also, take the time to remove any kinks in your lights and wrap them up carefully before putting them back in storage. This will make next year's installation much easier.
For expert assistance with roof repair or replacement for your Las Vegas home, contact First Quality Roofing & Insulation. Our roofing specialists are dedicated to providing superior support and were even awarded the 2018 Angie's List Super Service Award. Call us today at 702-262-7847 to learn more about the services we offer.