Many people are shocked when their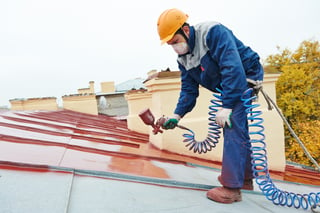 Las Vegas roofer pulls out the roofing samples – who knew there were so many color options for your roof? If you've never given much thought to your roof's color before, the number of options might overwhelm you. If you're struggling to make a decision, these tips can help you pick a roof color that will look great on your house.
Neutral vs Bold
Roofing materials come in a wide range of colors – from the classic browns, grays, and blacks to more unique choices like green or red. When you're trying to pick a color, the first thing you should consider is your own preferences. Take a look around at the houses in your area for inspiration. You may find yourself drawn to certain colors and strongly disliking others.
Your Las Vegas roofer can point out a few popular colors as a starting point. Typically, dark neutrals are the most commonly used shades. Most neutral shades can pair with just about any color of siding – bold or neutral. Bolder roof colors pair best with neutral siding colors that allow them to shine.
Dark vs Light
Along with picking a color, you will also need to decide if you want a darker or lighter shade for your roof. Medium to darker shades are generally the most popular colors to use. However, lighter shades absorb less heat from the sun. This makes it easier to maintain your home's temperature, keeping your family more comfortable and reducing the costs to heat or cool your home. It can make a huge difference in the middle of summer.
When picking the exact shade, pay attention to the amount of contrast it creates with your siding. If you pick shades that are too similar, the siding and roof can blend together, giving your house a very flat, monotone look. There needs to be a clear difference between the two colors. They don't have to be polar opposites, but the contrast should be noticeable from afar.
Undertone
Sometimes two colors don't look good together. The clash is usually because the colors have different undertones. Color variations can be warm (yellow undertones) or cool (red undertones). For a more cohesive look, the undertones in your siding and roof should match. For example, warm cream siding would look much better with a warm chocolate brown roof than a cool ash brown one. Undertones can be very tricky for the untrained eye to detect. Try looking at your siding next to the roofing samples in direct sunlight. If the colors seem to harmonize, they likely have the same undertone.
Trying to find a quality Las Vegas roofer you can trust to replace your house's roof? Download our helpful, free guide – "Questions to Ask When Choosing a Roofing Company in Las Vegas." Inside, you will find everything you need to know in order to select the right Las Vegas roofer to work with.