The roof not only protects you from the elements but also adds to your home's curb appeal. It and plays a significant role in determining your home's value. Unfortunately, constant exposure to the elements, poor maintenance, and age can take a toll on your roof. The results are roof damage, numerous repairs, and eventually, a roof replacement. Knowing the average roof replacement costs gives you an idea of how to budget for your new roof. Read on to find out more about roof replacement costs so you can take control of your finances.
What Is the Average Cost to Replace a Roof?
Whether your home's roof has suffered irreparable damage or you want to update the look of your home, you need to understand the financial obligations that come with a roof replacement. Note that the cost of your roof replacement depends on various factors. They include the pitch, the size of your roof, roofing materials, and additional services.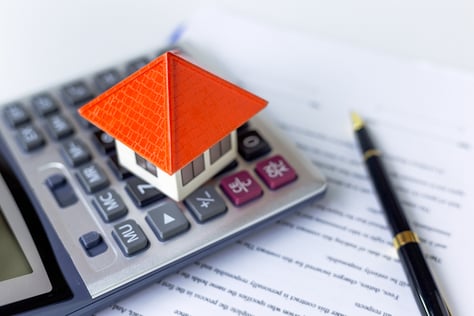 Pitch. Roofs with steep slopes are hard to walk on, which makes performing a roof replacement difficult. It increases the labor costs, making the roof replacement more costly.
Size of the roof. The bigger your roof, the more roofing materials you need for the job. Smaller roofs may therefore cost less to replace.
Roofing. Good quality roofing materials cost higher, and some roofing materials are more costly than others. You will have to invest more in quality roofing that guarantees efficiency and longevity. Also, heavier roofs cost more as they need extra reinforcement.
Additional Services. Other than replacing your roof, you may need your contractor to enhance other aspects of your roof. Services like cleaning the gutters, replacing the flashing and the soffit may add to your roof replacement costs.
Other factors determining your roof replacement cost include permits, labor costs, warranty, and geographic location. You can get an idea of your expenses by looking at the average costs of roof replacement in your area. On average, you should expect to pay between $5250 and $10500 for a standard shingle roof replacement. Always budget for more than you think you will need to take care of unforeseen costs.
Roof Replacement vs. Roof Repair
Before embarking on a roof replacement, you should first establish whether you need a roof repair or roof replacement. Not every roofing problem requires a roof replacement. You can fix minor and moderate issues as long as your roof structure is still in good condition. If you are experiencing minor roofing problems like leaks, but the overall roofing is still intact, consider scheduling a roof repair. Roof repairs are also ideal for newer roofs.
During a roof replacement, you get rid of the entire existing roof and install a new one. Note that a roof replacement differs from a reroof. Reroofing involves the addition of another layer of roofing materials to an existing one. However, the law limits how many layers you can add to your existing roof. After two layers, you should perform a total roof replacement.
Other reasons you may need a roof replacement include a sagging roof, a roof with more than 20 years, severe water damage, or roof damage from a disaster. Since roof replacement involves a complete overhaul, it is costlier than roof repairs as the latter only fixes problematic areas. Although roof repairs are a quick and affordable way to restore your roof, the costs can add up quite fast.
A roof replacement, on the other hand, gives you a new roof. While it can be costly, it addresses all roofing issues, lasts longer, and saves you money in the long-term that you would have spent in continuous roof repairs. It also boosts your roof's efficiency and improves its curb appeal. Before making a decision, it is advisable to conduct a professional roof inspection to establish whether you need a roof replacement, repairs, or reroof.
Roof Replacement Cost Calculator
One of the best ways to get an accurate estimate of your roof replacement costs is using a roof replacement cost calculator. It gives you the prices per square foot when you enter the details of your roofing. You need to provide details of the roofing materials, location, roof slope, and size, as well as the number of levels. The resulting price usually includes labor costs, materials, building permits, profits, and removal costs. You also get access to high end, mid-end, and low-end prices so you can choose the best services for your budget.
However, the roof replacement calculator may not factor in costs that result from the timing of your roof replacement, as well as the duration of the project. Note that the complexity of your roof may also affect the results of your roof replacement cost calculator. Therefore, while it is an ideal way to get an idea of your roof replacement costs, it is advisable to consult a roofing expert. Your roofing company will issue you with a quote that considers all the unique characteristics of your project.
Your Roof Replacement Financing Options
When planning for a roof replacement, you need to know how you are going to finance it. Given the costly nature of the investment, various financing options exist to help you pay for your roof replacement. Below are some of your financing options to consider for a roof replacement.
Cash/Check. If you have been saving for your roof replacement, you can easily fund it by paying hard cash or writing a check of the entire amount. It is the simplest way to cover your roof replacement costs as it has minimal paperwork.
Credit. In case you are unable to raise money for your roofing project, you can always add it to your credit card. It is especially ideal if you have rewards or bonuses that can lower your roof replacement costs.
Roof Company Financing. Some companies offer financing options to their clients, so you don't have to worry about looking for funding. You can use financing from your roofing company and cover the costs of your roof replacement over time. Depending on the duration of your payment plan, you can complete your roof replacement cost payments within a few months or years.
Insurance. Home insurance may help you cover roof replacement costs if the damage is due to disasters like a storm. Note that insurance doesn't cover normal wear and tear or damage from poor maintenance.
How to Find Roof Replacement Company near Me
Getting the right for your roof replacement ensures that you pay for impeccable craftsmanship, high-quality materials, and timely roof replacement. With many roofing companies to choose from, it can be a challenge to hire the right fit. The best way to find a roof replacement company in Las Vegas is by asking for recommendations from your friends and social circles.
You can also look online for roof replacement near me. Doing so gives you a wide array of options so you can choose the best roofing company that fits your budget and offers customer satisfaction. When hiring a roofing contractor, always ask for experience in roof replacements, licenses, and check for positive reviews from satisfied clients. Doing so gives you a sneak peek of what to expect from your potential roofing partner.
Roof Replacement Services in Las Vegas
If you are looking for a roof replacement contractor in Las Vegas, First Quality Roofing & Insulation can help you give your roof a new look. We not only offer 100% financing for your new roof but also provide a 10-year warranty on labor and materials as a mark of confidence in our services. Contact First Quality Roofing & Insulation at 702-262-7847 for more information about a roof replacement.