When selecting a roof for your Vegas home, roof tiles in Las Vegas are a top alternative to consider. Roof tiles are durable and capable of withstanding harsh conditions. Here's what you should know about roof tiles in Las Vegas and items that impact their potential lifespan.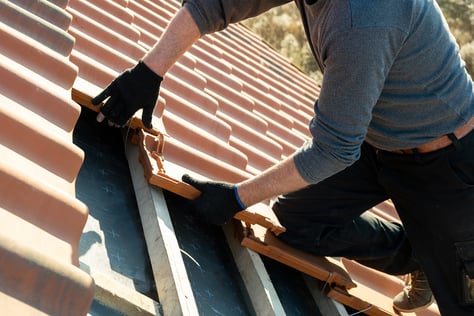 Roof Tiles Explained
Roof tiles are constructed from materials known for their longevity. The materials used for roof tiles include:
Clay/terracota
Concrete
Slate
The shape and coloration of the roof tile can vary depending on the style and design. This provides a variety of roof tile options that helps homeowners find a product that suits their home's aesthetic.
Advantages of Roof Tiles in Las Vegas
Thanks to the strength of the materials used for roof tiles, they last longer than other common roofing alternatives. Roof tiles also stand up well to the elements. They remain in good condition even when exposed to extreme temperatures, hail, and high winds. These tiles are also fireproof and resistant to insects.
Another advantage of roof tiles is their energy efficiency. A roof constructed from roof tiles has space between the tiles that provides ventilation and insulation for the home. Homeowners in Las Vegas who opt for roof tiles typically have a more energy-efficient space with lower heating and cooling costs.
If a few of your roof tiles are damaged, it's possible to repair the damaged area without replacing the whole roof. Since roof tiles are crafted from natural materials, they can be recycled when it's time to replace them.
The Lifespan of Roof Tiles
Roof tiles have an average lifespan between 50 and 75 years. The average lifespan of asphalt roofs is only 15-25 years, depending on the type of shingles used. Wood shake roofs last an average of 30 years. The materials used to produce roof tiles are ideal for desert conditions. To ensure roof tiles achieve their maximum lifespan, proper installation is essential.
Roof tiles are heavy, and they're a little harder to install than other roofing materials. Check that you stick with a company with extensive experience installing roof tiles in Las Vegas. Your home has to have a structure that's capable of adequately supporting the weight of the tiles. Tiles installed on homes without the right structure won't last nearly as long.
If you access your roof for home maintenance, make sure you don't step on your roof tiles. Roof tiles will crack if you step on them.
Ready to explore roof tiles in Las Vegas? Contact First Quality Roof to get started!