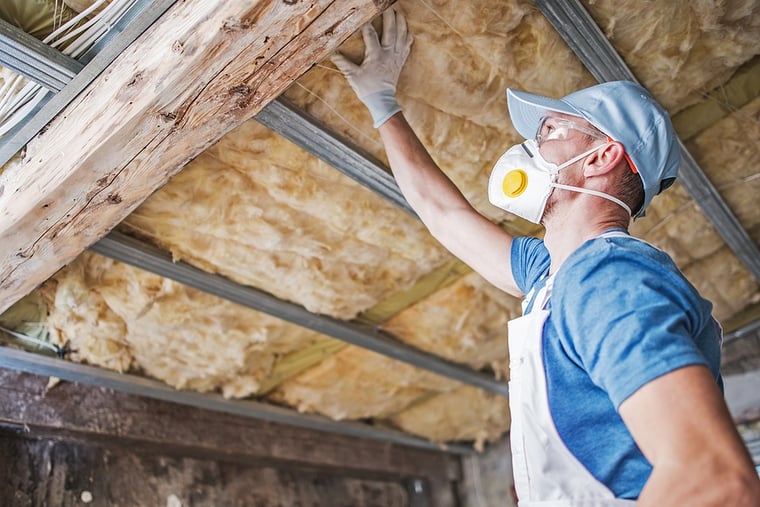 Quality insulation in the attic and the rest of your Las Vegas home is essential to your comfort. Not only does it fend off the brutal summer heat, as well as the occasional winter chill, but it can also have a direct impact on your health. If you have old, obsolete insulation, damaged insulation, or even new attic insulation that has been improperly installed, it can release contaminants into the air, affect your home's humidity or leave your home too hot or too cold for your health.
To protect your home and your family, it is important to have your insulation inspected periodically to make sure it is in good condition, or after events like roof leaks, heavy storms, or home renovations. At First Quality Roofing & Insulation, we recommend annual insulation inspections, and if there is significant damage or other hazards, we may recommend new attic insulation. Our experts will look for the following insulation-related problems that may pose a danger to your health or safety:
Old or Damaged Insulation
If your Las Vegas home is more than a few decades old, your current insulation may be starting to fail. Materials like cellulose can begin to compress or become wet due to leaks, limiting its performance. Fiberglass batts can begin to fall apart or break down, allowing air infiltration. Older foam products can begin to degrade and fall apart.
As the insulation begins to fail, you may experience drafts in the winter, dangerously hot temperatures in the summer, higher humidity levels, or air infiltration that allows pollen, dust or mold spores into your home. New attic insulation can reduce air infiltration and help to maintain proper temperature and humidity levels.
Old cellulose or fiberglass insulation can often create the ideal environment for mold growth if your roofing, siding or plumbing starts to leak. As the insulation starts to become damp, mold spores in the air will colonize it, spreading rapidly into surrounding areas. While most mold is harmless, some types can be irritating to those who have asthma, allergies, COPD, or other respiratory conditions. A few species, however, can be quite dangerous, leading to lung infections, central nervous system damage, heart problems, and more. For homes with extensive mold damage, new attic insulation and wall insulation is often the best solution.
Missing or damaged insinuation can allow contaminants like pollen or mold spores to enter your home, being drawn through voids in the walls, ceilings, or attic. Certain types of insulation, like spray foam, can off-gas irritating or even harmful chemicals while they cure, and insufficient or improperly installed insulation can increase humidity, further reducing air quality. Proper air sealing, along with new attic insulation and wall insulation, can be a great way to improve air quality, as well as comfort.
In homes with older or improperly installed fiberglass or mineral wool installation, skin irritation may be an issue. These types of insulation are made from small fibers that can float through the air and land on the skin, causing itchiness and skin irritation. Properly sealing finished walls can virtually eliminate the chances of skin irritation from fiberglass or mineral wool insulation.
Insulation that is damaged or improperly installed can trap moisture in your home, and insulation that has been exposed to water due to leaks can lead to higher humidity and condensation problems. As the moist air circulates through your home, not only does it encourage mold growth, but it can allow pests like dust mites to thrive, as well as certain types of bacteria and viruses. Ongoing moisture problems can also impact wood framing, encouraging termite or carpenter ant infestations. New attic insulation can help to control moisture in your home and maintain healthy humidity levels.
Triple-digit temperatures are not uncommon in the Las Vegas area, and if your air conditioner cannot work effectively due to poor attic insulation, your home can become dangerously hot during the peak of summer. At First Quality Roofing & Insulation, we recommend high-quality new attic insulation as well as radiant barriers to help keep your home as cool as possible during the summer. As an added bonus, installing new attic insulation can also help to maximize the service life of your roof, by keeping the underside cooler and encouraging proper roof ventilation.
Some older homes may have obsolete or even dangerous types of insulation installed. Early fiberglass materials were more prone to release glass fibers than modern products, causing skin and respiratory irritation. Some spray foam products can release harmful vapors or VOCs as they cure, and if the installer does not adjust for temperature and humidity properly, the foam may not cure thoroughly, leading to long-term problems. Also, some early types of cellulose insulation may contain asbestos, which can lead to lung cancer. If you have any of these types of insulation in your Las Vegas home, it is a good idea to install all new attic insulation, wall insulation and floor insulation to eliminate any health hazards.
Professional New Attic Insulation Services in Las Vegas
If you are concerned about the condition of your home's insulation and the impact it has on your health, turn to our experts at First Quality Roofing & Insulation. We can inspect the insulation in your Las Vegas home and identify and problems with the materials, installation or age of your insulation. We can also recommend the best solution for your needs and budget whether that is air sealing, new attic insulation or all new insulation throughout your home.
Our company offers home insulation services that include new attic insulation, radiant barriers, and more. We also offer complete roofing services, including roof repair, roof replacement, and roof maintenance. We serve homeowners throughout the Las Vegas area, including Mesquite, the Lakes, Sun City, and beyond. Call us today 702-262-7847 at or contact us online to schedule a new attic insulation installation anywhere in Las Vegas or the surrounding communities.