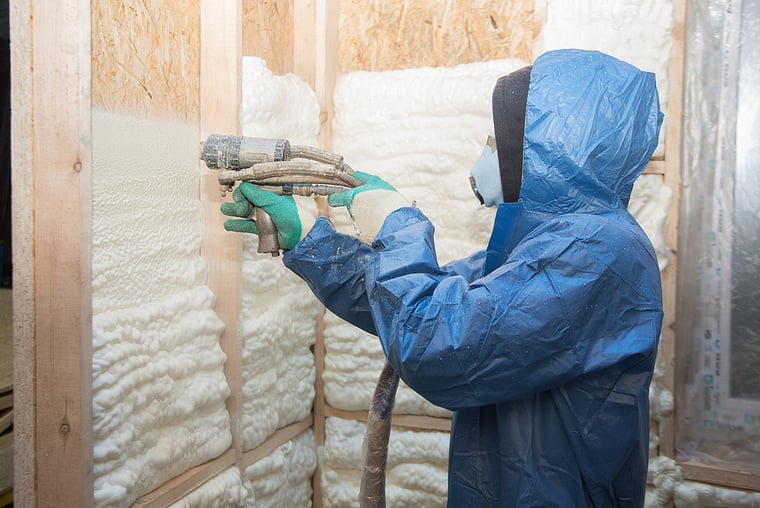 When parts of your home aren't properly insulated, you can waste a lot of money trying to maintain a consistent temperature. Attics are often one of the worst spots in a home when it comes to insulation, so they're a good spot to check if you're spending too much on heating and cooling.
The tough part about attic insulation installation is there are a lot of little obstacles that can make it tough to insulate everything. If you want to make sure your attic is properly insulated, the best thing you can do is hire professional attic insulation installers.
Why Should You Install Attic Insulation?
If you want to make sure you're keeping the outside temperatures from affecting the temperature inside your home, you need to make sure everything is properly insulated. Your attic is one of the most important spots, since attics can draw in so much heat during the Las Vegas summer. Even if you've owned your home for several years and you already have an insulated attic, there are still situations in which you might want to have new attic insulation installed.
Old Insulation: Just because your attic was properly insulated when your home was built, doesn't mean that insulation is still doing a good job today. Whether your insulation has been damaged by rodents or other pests or is starting to fall apart, old insulation is a good reason to hire an attic insulation installer.
Shifted Insulation: Insulation doesn't work unless you install it just right, as we'll discuss in this blog. However, it's not uncommon for insulation to shift over time and eventually lose some of its effect, at which point you need to have new insulation installed.
Obstructions: If you're having a problem with a vent or duct in your home, there's a chance it could be a result of insulation shifting or covering an opening that shouldn't be covered. In this case, you should have a professional attic insulation company take a look to find the obstruction.
Reasons to Always Hire Professional Attic Insulation Installers
Types of Insulation
One of the most important reasons to hire an expert attic insulation installer is the fact that there are different types of insulation. For starters, insulation comes in different forms that require different installation processes. While some of these types of insulation are very easy to install, they might present other problems that make them not worth using. However, you can't know that if you're not a professional.
Another thing you need to consider if you're planning on insulating your attic is the fact that there are several different insulation ratings on the market. If you don't want to spend a lot of money, you can go with a lighter insulation that doesn't provide quite as much protection. However, it might be worth upgrading to something a little heartier if you want to see a big difference in your energy bill.
A professional attic insulation installer can walk you through all your different options when it comes to insulation, so you know what's best. Not only does this provide you with the best insulation, it also ensures your insulation lasts so you don't have to have new insulation installed in another year or two.
Tight Spaces
When it comes to attic insulation installation, choosing the right type of insulation is only one small part of the battle. On top of that, you've got to make sure you can navigate all the different obstacles and tight spaces in your attic without sacrificing insulation. The truth is, this is pretty much impossible to do unless you have experience in insulating attics and know all the tricks to avoid obstacles and ensure everything is properly insulated.
Pipes are one of the toughest parts about insulating an attic. Making sure the insulation is still snugly in the wall cavity where the pipe is located is crucial, but you don't want to damage the pipe either. A professional can take the time to cut and form insulation around pipes to keep both the pipe and wall cavity insulated.
Attics are also home to several other small structures, such as vents, electrical work and ducts. While it might not seem very difficult to install a bit of insulation around a duct or vent, it's the quality of the work that really suffers when you try to DIY attic insulation. You need to make sure insulation is snugly installed where it needs to be if you want to reap the benefits, and that's not something most people are capable of doing when working around obstacles in the attic.
Aside from all the obstacles you're likely to face, you also have to remember attics are often very small spaces compared to other parts of your home. Because of this, you have to be able to crouch down and maneuver your body properly while making sure you're maneuvering the insulation around obstacles and getting it where it needs to be. Hiring a professional attic insulation installer means you don't have to worry about the stress of trying to install insulation in a tight space, among many other things.
Quality Work
Even if you're simply installing insulation in an interior wall on the ground floor of your home, it's always a smart idea to hire a professional who knows what they are doing. Properly insulating a home requires knowledge and experience, which means you aren't going to do it right your very first time. When you hire an attic insulation installer, you don't have to worry about your lack of experience affecting the quality of work.
Here are some of the biggest benefits in hiring a professional in terms of quality:
You get the right type and amount of insulation for your home's attic

Insulation is firmly installed, so you don't have to worry about it shifting any time soon

You save money since you only have to buy insulation once when it's installed right

The job is done faster, so you can enjoy a more comfortable home sooner
If you want to make sure the attic in your Las Vegas home is properly insulated, the folks at First Quality Roofing & Insulation can help. We've got the experience and expertise it takes to make sure you're keeping a consistent temperature in your home, especially during hot Vegas summers where the attic can let in a lot of heat. To find out more about the benefits of hiring a professional or schedule an appointment, give First Quality Roofing & Insulation a call at 702-262-7847 today.