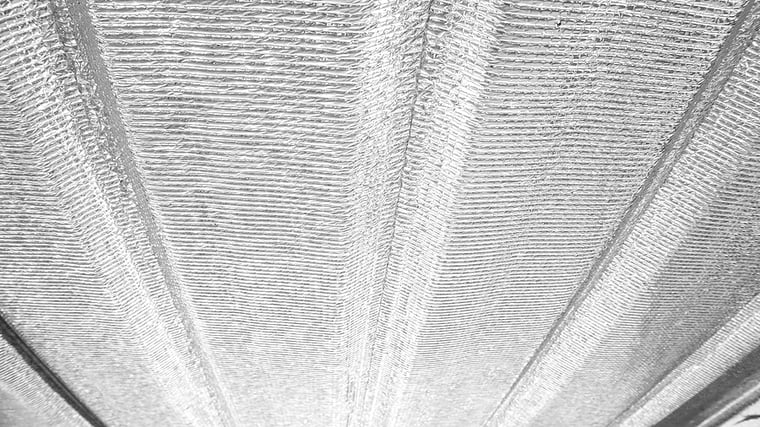 Radiant Barrier Insulation has been linked to savings of up to 10% off the energy costs. Don't let the myths of this insulation cause you to overlook the huge cost savings and benefits. Radiant barrier is typically installed in the attic to mitigate the heat gain during the summer as a cost-savings measure. It's important to understand what it means to have radiant barrier installed and how it could benefit you and your property.
Things Most Homeowners Don't know About Radiant Barrier Insulation
What Is Radiant Barrier Sheathing? How Does It Work?
Radiant barrier sheathing consists of an oriented strand board (OSB) or plywood panel with an aluminum layer that faces down. Due to the unique installation requirements, a professional roofer should install the radiant barrier sheathing to the roof rafters. When properly installed, radiant barrier helps to reduce heat absorption via the reflective ventilation system. The heat is then radiated upward away from the house, which keeps the house cooler and more energy efficient.
Why Doesn't Everyone Use Radiant Barrier in Their Home?
Radiant barrier is the subject of a few common misconceptions that lead homeowners to be skeptical about the worthiness of the investment. However, First Quality combats these issues in the following ways:
If the attic doesn't have enough ventilation, the radiant barrier will not be as efficient and cost-effective as it could. When First Quality completes the radiant barrier installation, we'll make sure that the proper ventilation is in place.
The cost savings aren't significant enough when you consider the overall cost for installation, etc. With a potential overall benefit of 25% and our guarantee of service, you'll continue to see the savings.
The R-value SRX does not prevent radiant heat transfer, and thus may not save on energy. We'll work with you to deliver the right SRX to get you the energy savings you need.
It's important to note that radiant barrier installation should always be completed by an insulation expert, as improper installation could cost you more money than it saves you.
What Are the Top Benefits of Radiant Barrier?
The benefits of radiant barrier are that it keeps a home cooler and more energy-efficient, particularly during the hottest months of the year. The goal is to lower the energy costs, and this solution goes a long way toward energy efficiency. Here's how the radiant barrier is part of the complete solution:
You don't have to keep turning down the air conditioning to stay cool in the summer

It's particularly effective in areas with the highest temperatures

You should start seeing the cost savings immediately with our installation

The continued benefit is also evident in the future
As part of a concerted effort to improve overall energy efficiency, the radiant barrier installation is effective, but there's more to the process than just one product or service. We offer suggestions for additional factors, including ventilation, foam insulation and a powered attic fan. It's all part of a comprehensive service solution that will identify areas for improvement and then implement solutions that will continue to ensure optimal energy efficiency and cost savings.
What Makes First Quality Stand Out?
We pride ourselves on offering professional and reliable services, as licensed, state-certified, insured roofing providers. We have the skills and knowledge to offer attic installation for radiant barriers. We also offer industry-leading extended warranties to protect you and your property both now and in the future. Beyond hiring the top, most reliable roofing professionals in the business, we offer financing options to cover your needs through GE Capital Retail Bank.
We want to support you through this entire process so you get the safe, reliable service you need at a price you can afford for radiant barrier insulation. As your partner, we'll stand by you, offer any support you need to get through the repair or replacement process, and then work with you to facilitate the appropriate options that will fit your budget. It's what we do, as part of our comprehensive customer service. Contact us at 702-262-7847 to schedule your radiant barrier insulation consultation!