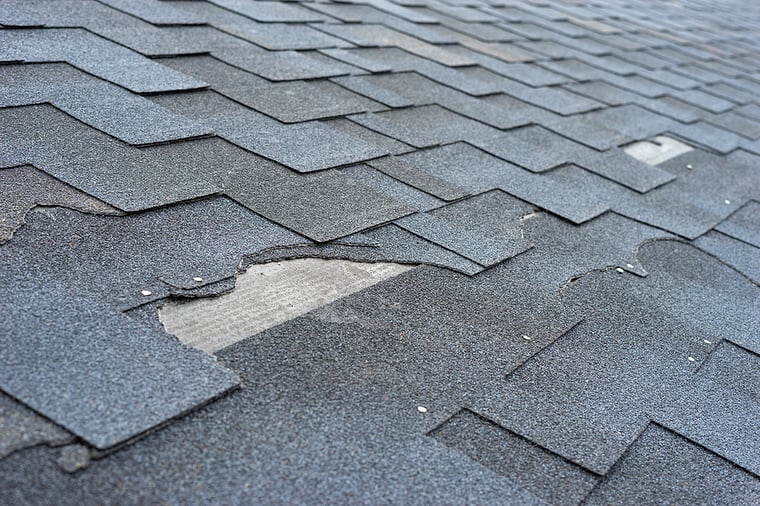 The initial answer to the question of roof leak repair cost is: "It depends." Weather damage and failing material can be minor or extreme. Sometimes, you won't know how bad the damage is until you've scheduled a roof inspection and your roofer has thoroughly examined all components for damage. An estimate is issued once the roofer sees the extent of the damage and what's needed for repair.
The fact of the matter is that you can't put off roof repair even if the roof leak repair cost higher than you anticipated. Letting a roof leak go unchecked can lead to worsening damage from the elements. Here's a look at different types of roof damage, their repairs and what can happen if you don't get them fixed:
Common Types of Roof Damage
Loose Flashing
Flashing is a sheet of metal that surrounds chimneys and other structures that emerge from the roof. It's nailed on, then the holes and edges are sealed with roofing cement. The flashing is one of the most common sources of roof leaks due to the cement failing, mortar joints failing due to the bricks deteriorating, a crack in the flashing, or the flashing being loosened by wind.
Moisture
You might not have a direct leak in your roof, but you can still have moisture infiltration due to the various types of damage a roof can experience. Loose shingles, cracked tiles, sealant failure, and damage to the underlayment allow water into the attic. Once the water is inside, it gets absorbed by the insulation, wood and any other absorbent material inside. This can lead to rot, mildew and mold taking hold in the structure.
Aging Roofing Materials
The desert climate of Nevada is harsh on roofing materials. The sun and heat are merciless to roofing materials whether they're shingle or tile. As the materials age, they dry out and crack. Cracks in the roof allow water to get in and make it easier for a strong wind to pull off shingles and tiles.
Pooling Water
Homes with a flat roof are most at risk for pooling water. Over time, the joists of the roof sag and create depressions in the surface of the roof. Since there is no drainage in the center of the roof, the water pools and rots the roofing material. While this is less likely to happen in an arid climate, it's still a possibility.
Why Roof Damage Shouldn't Be Ignored
Water is your home's biggest enemy even in an arid climate. A small leak in your roof can lead to ceiling and wall damage that requires pulling out drywall and repainting or replacing wallpaper. This adds to the cost of repairing the hole in your roof.
The longer a leak goes unchecked, the more your home suffers in the form of the hole getting larger. More of your home's structure is exposed to water damage, which translates into a larger repair and more expense. Water damage to the ceiling and roof joists causes them to collapse and warp if not addressed in a timely fashion.
Holes in the roof are also an invitation for animals to take up residence. Rodents, birds and even bats, can take advantage of the entry into a protected space and make their nests. When these unwanted guests are in your roof, they leave behind a mess and make noise around the clock. Their feces make the house smell, and their urine soaks through the insulation and ceiling. Not only is there a hole in the roof to repair, there's also the need to call in animal removal specialists, then deal with the mess and damage that's left behind.
Average Costs for Different Types of Repairs
You won't know how much it's going to cost to repair your roof until a roofing expert has investigated the issue at hand. Roof repairs range from minor to major with classification dependent on how much damage is found. Minor repairs are usually affordable, while major damage may require invoking your homeowner's insurance policy for coverage or financing the repairs.
Financing the Cost of Repairs Helps You Protect Your Home Against Further Damage
If your roof needs replacement from water damage, the replacement might cost more than you are able to pay up front. But you can't ignore the issue, either. A bad roof affects your quality of life and negatively impacts your home value, and the longer you wait to repair it, the worse it's going to get. Credit cards are an option, but you wind up paying more for the roof due to the high interest rates. First Quality can help you finance the cost of your roof replacement with low interest rates and let you avoid using your credit cards.
Call Us at First Quality Roofing & Insulation Today
We at First Quality Roofing & Insulation are ready and able to fix your roofing problems quickly, professionally and reliably. We perform inspections to make sure your roof is sound or is in need of repair and give you an upfront estimate of a roof leak repair cost or any other issue we uncover during an inspection of your roof. Our team of professionals is proud to provide top-notch customer service at all times, and we use only the highest-quality materials to repair your roof. Contact us at 702-262-7847 to schedule an inspection today.