When bad weather hits the Las Vegas area, from spring thunderstorms to monsoon rains, you depend on your roof to keep your home dry and protected from the elements. Water damage can be a costly, long-term problem, so when you have roof damage, skip the local handyman and choose a qualified roofing company to make sure the job is done right the first time. Here are just a few of the benefits of opting for professional roofing repair in Las Vegas: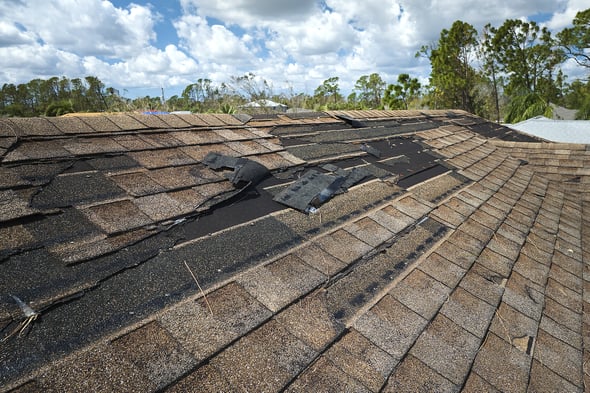 1. A Comprehensive Roof Inspection
When your roof starts leaking, it is not always easy to find the source. Water can take a meandering path from the hole in the roof to the interior of your home - following beams, wires, rafters, and more. A comprehensive, professional roof inspection helps to find the source of the leak, along with any other potential problems that would be easy to miss, like popped nails, stacked keyways, or cracked flashing.
2. Expert Roofing Repairs
When you want your repairs to last as long as possible, always choose a professional for roofing repair in Las Vegas. A qualified roofer has the skill and expertise to complete the repair properly, without taking shortcuts that could lead to leaks in the future. Plus, a professional understands how the roofing system works as a whole, rather than just focusing on the damaged area, resulting in a better, longer-lasting repair.
3. Quality Materials
A roofing contractor will have access to the highest-quality materials for the repair, such as specialty adhesives and sealants, shingles that are a close match to the original, and a wide range of flashing solutions to ensure a good repair. Plus, they will know which materials and techniques will work the best and satisfy any applicable warranty requirements from the roofing manufacturer.
4. Staying Code Compliant
In areas where roofing repairs require a permit, a professional roofing contractor can make sure that all the appropriate paperwork is completed, and the permit is granted before work begins. This saves you from unnecessary fines, work stoppages, and more.
5. Improved Safety
Whether you hire a local handyman or try to do the repair yourself, having someone inexperienced climbing a ladder, walking on your roof, and handling potentially dangerous tools can be a huge source of liability. From lacerations and other injuries to falls, the potential for a lawsuit or higher insurance premiums is significant. By choosing professional roofing repair in Las Vegas, you will have a licensed, insured company doing all the work, improving safety on the job and reducing your liability.
6. Shorter Repair Times
If the damage to your roof is extensive, a professional roofer can get the job done quickly, limiting the amount of time that your Las Vegas home is exposed to the elements. An inexperienced roofer will take longer to finish the job, risking further water damage, and the results will not be as good as those from a professional.
Top-Quality Roofing Repair in Las Vegas
When you need a skilled team for roofing repair in Las Vegas, choose First Quality Roofing & Insulation. We are one of the leading roofing companies in the Las Vegas area, and we offer roof repairs, roof replacements, inspections, and more. We make the process as easy as possible, with accurate estimates, upfront pricing, flexible financing options, and a 100% satisfaction guarantee.
For unparalleled professionalism and customer service, choose First Quality Roofing & Insulation for your roofing repair in Las Vegas. Call 702-262-7847 or contact us online to schedule an appointment today!