There's a reason it's called "know-how":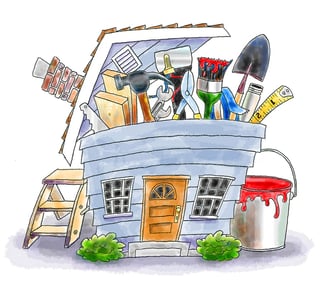 because in a pinch, it really pays to know how to perform certain tasks around the house.
Naysayers will say they don't want to be bothered because they can always hire someone to perform these tasks for them. But you -- being infinitely wiser -- may choose to hire contractors only for major or complex Las Vegas home improvements.
Besides, certain tasks provide an inherent rationale for mastering them yourself:
You want to be able to respond quickly in a crisis;
You will have to do them so often that it just makes good, practical sense to tackle them yourself; or
They can be completed so quickly that it would be a waste (and maybe even embarrassing) to call someone to come to your rescue.
Whether you own or rent your home, you'll be glad you took the time to master these 10 essential tasks – if only for the satisfaction you will derive:
Learn how to turn off the gas. Whether you're responding to an emergency, smell gas in the air or your gas company has instructed you to do so, learning where your shut-off valve is and how to operate it is vital – and potentially life-saving.
Learn where your electrical panel is located and ensure that it is properly labeled so that each breaker clearly shows to which room or rooms it sends electricity. If the box is not labeled, call a electrician to label it for you. This is step one.
Learn how to reset (or trip) a circuit breaker and turn off power to parts of your home. This is step two. You might rally this skill once a season or once a year, depending on how often you experience lightning strikes, overloaded circuits or power outages.
Learn how to shut off your water at the main valve. There's nothing like a pipe burst or washing machine malfunction to underscore the importance of this task. Water damage is among the most expensive problems you could ever incur.
Learn how to fix leaky and/or running toilet. Running toilet water can waste about 25 times more water than a shower leak and four times more than a faucet leak – two other fixes worth mastering, too.
Learn how to check and change your air filter. You should do the former once a month and the latter when the filter becomes so clogged with dust and dirt that you can no longer see through it. A clogged filter undermines the efficiency of your heating and air conditioning system and, in the worst cases, can even cause it to shut down.
Learn how to change the temperature on your water heater. Setting it at 120 degrees can prevent scalding, slow the buildup of minerals and corrosion and save you money every month.
Learn how to apply caulk and weather stripping around doors and windows to conserve energy. Use weather-stripping in your home to seal air leaks around movable building components... For stationary components, caulk is the appropriate material for filling cracks and gaps," the U.S. Department of Energy says.
Learn how to maintain your appliances not just in the kitchen but in the laundry room, too. Enhance their efficiency, extend their lifespan and reduce the need for repairs by at least familiarizing yourself with the major components.
Learn how to find a wall stud with a stud finder. Boards are spaced either 16 or 24 inches apart, and finding them will ensure that all your wall hangings remain safe and secure. Read about how your measuring tape can also provide an easy way to find the studs in your wall here.
Notice that roof repairs do not appear on this list. This is because roof repairs fall under that category of Las Vegas home improvements that are best left to licensed, experienced professionals, like those at First Quality Roofing & Insulation. When it comes to know-how, First Quality is Las Vegas' premier roofing company. Call us today for a free consultation at 702-262-7847.