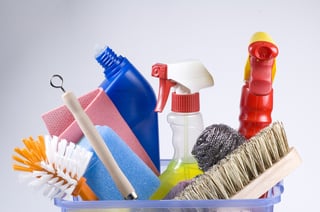 Get out the cleaning supplies and prepare to organize. It's time to start spring cleaning.
Wash the Windows

Make sure to let the spring sunshine fill your home by keeping your windows clean. Wait for a cloudy day? When you'll be able to see any streaks left after wiping down the glass.
Get Dusting
Spring is the season of allergies. Help to make your home an allergy friendly space by dusting, focusing especially on the areas that are often forgotten. Make sure to give attention to lampshades, fan blades and bookshelves. Toss drapes, blankets and pillows in the dryer for 15 minutes on a low level as well.
Focus on the Floors
Move the furniture and give the floors a good cleaning. Steam cleaning carpets and scrubbing wood or tile floors will instantly make your home feel fresh and clean. While you're at it, replace the bag or filter in your vacuum. You'll notice it runs better and picks up more grime after it gets some attention.
Check Smoke and Carbon Monoxide Detectors
Las Vegas home maintenance includes keeping your home and family safe. While you're cleaning out nooks and crannies, do a quick check to make sure things are in working order. Check the batteries in your smoke and carbon monoxide detectors, which should be changed twice a year. Learn more about the danger of carbon monoxide here.
Clean Out the Closet
As you switch out your winter wardrobe for warm weather clothes, take some time to sort through your clothing. Set aside things you no longer wear or what doesn't fit. Donate or sell the items that are in good condition and enjoy the extra closet space.
Spend Time on Appliances
You use them every day, but how often do they get a good scrub? Use a microfiber cloth to clean stainless steel appliances. Defrost the freezer and clean the burnt bits at the bottom of the oven. Even the dishwasher needs a good cleaning now and then. Clean out debris and run an empty cycle with a dishwasher cleaning detergent.
Clean the Gutters
Roof repair is a big part of Las Vegas home maintenance. One way to keep your roof in shape is by removing debris from the gutters while spring cleaning. Scooping out leaves, dirt and other debris doesn't take much time and will help prevent water pooling and roof damage throughout the season.
Spring-cleaning is an important part of Las Vegas home maintenance. Taking some time to clean, organize and repair now will save time, effort and headaches later. Get a quote from First Quality Roofing & Insulation for roof repair, replacement and inspection to be sure your home is ready for the spring season.