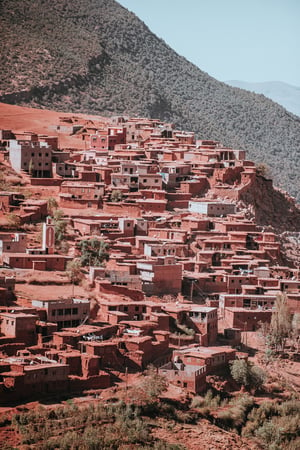 For many homeowners, the roof is an afterthought. Well, at least until it starts to leak! But your roof doesn't just keep you dry during those 20 or so days a year that Las Vegas sees rain. There are also about 3820 hours, or 160 days, of sunshine during the same time. That's a lot of heat!
At First Quality Roofing & Insulation, we are often asked: "Which roof tiles are best for absorbing heat and keeping a house cooler, porcelain or clay?" While porcelain has its advantages, including great water resistance and a good level of heat absorption, clay tiles are the best absorber of heat, and have been for centuries. If you're looking to replace your home's existing roof, read on for why clay may be your best choice.
Look to the Past for Modern Roofing Solutions
If it's good enough for the Greeks and Romans, it's good enough for Las Vegas homeowners! Clay roofing has been in use since 2500 B.C. In the U.S. today, many prominent homes and public buildings such as universities, libraries, and courthouses are protected by clay roof tiles.
Clay roof tiles are an attractive, impermeable, and durable option with a hard, waterproof surface that perfectly withstands rain and heat. They're ideal for absorbing heat during the day and slowly releasing it during the cooler evenings. When compared side by side, they can cut heat transfer by up to 70% more than asphalt shingles.
Other benefits of clay roof tiles include:
Wide variety of colors. Most people are familiar with the earthy reddish clay tile, but they also come in many other shades ranging from dark to light and even multi-colored. There's a clay tile available to complement just about any exterior color scheme.
Mimic other materials. The most popular clay roof tiles are the Italian or Spanish-look ones, but they can also be made to resemble slate or wood shakes.
Hail resistant. Las Vegas thunderstorms often include hail, sometimes the size of golf-balls! Clay tile roofs have a tough, water-shedding outer shell that resists damage from hailstones as large as 2 inches (FYI, larger than a golf ball).
These eco-friendly tiles are also extremely fire resistant and durable, and can be used on moderate to steeper sloped roofs. Easy to install, maintain, and repair, clay tiles do cost more than other roofing materials but make up for it over their lifetime.
Learn More
First Quality Roofing is the area's premier service for quality roofing solutions. We'll install the tile roof your home deserves – and help you stay cool through the long hot days Las Vegas is known for. To learn more about clay, porcelain, or any other roof replacement material, contact us today at 702-262-7847.
Photo by Annie Spratt on Unsplash