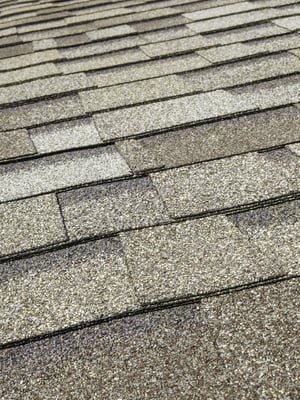 Have you ever wondered why a cat's tongue is so rough? It's to help the furry feline survive. The tongue's tiny bumps have 2 main purposes: they make it easier to hold onto prey and are efficient little tools for grooming.
Just like a cat's tongue, roofing shingles feel like sandpaper for reasons that help your house survive: providing fire resistance, repelling water, and protecting the surface from harmful UV rays. They also help control the interior temperature, which is extra nice during Las Vegas' heat waves!
Why Homeowners Love Asphalt Roofing Shingles
It's always helpful to understand how the roof above your head is constructed. Of all the roofing shingles on the market, it's the asphalt ones that are famous for the grainy surface that feels like sandpaper. In addition to being less expensive than other materials, shingles are popular for many reasons:
They're versatile. Asphalt roofing shingles come in a wide range of colors to match just about any home's sidings and trim.
They're easy to maintain. Regular maintenance of your home's roofing system is vital to extend its life for as long as possible. Asphalt shingles are easy to repair and handle weather fluctuations with ease.
They're familiar and people relate them to what a home should look like. Even if they choose another material, many homeowners go with something that mimics the shingle look.
How Asphalt Roofing Shingles are Made
In the U.S., 3-tab asphalt shingles are fiber reinforced and have granules that are embedded and adhered to them. Aside from shielding the shingles from the degrading effects of UV rays, the granules also protect them from falling yard debris and hail.
For many people, shingle granules also provide a significantly more attractive roof than solid black asphalt alone. So why the sandpaper feel? Think of it as the opposite of a sponge that's filled with absorbent craters. Instead of soaking into the roof, water beads on the granulated shingles and slowly runs down into the gutters. While this method works great, keep in mind that all asphalt shingles wear out over time and need replacing.
One way the life of an asphalt shingle roof is extended is by overlapping the shingles. Each shingle is attached to the roof's surface with 3 or more nails driven through a strip of adhesive tar which seals the nail penetrations. The next higher level overlaps the strip, and so on until the entire roof is in place. As the sun heats the roof's surface, the adhesive tar strip melts further and helps glue down the bottom edge of the upper shingles.
Learn More

Who knew that little sand-like granules could do so much to protect your home? If you'd like to learn more about regular roof maintenance, or to schedule a roof inspection or repair, contact First Quality Roofing & Insulation today at 702-262-7847.