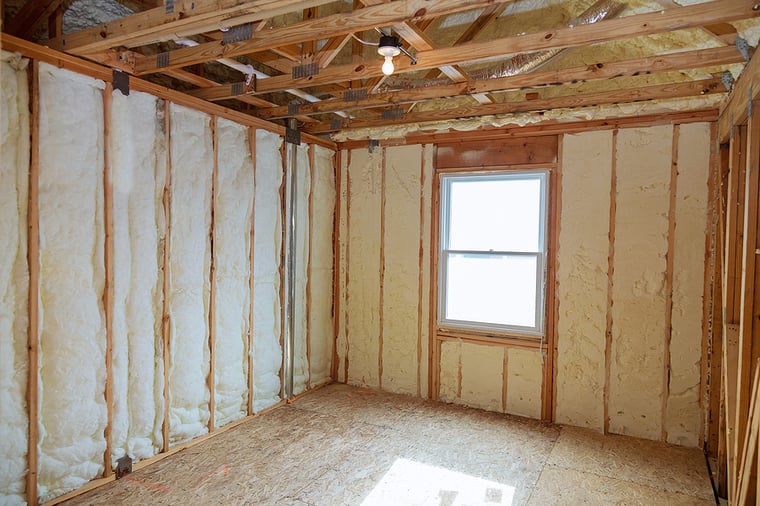 According to the Department of Energy, a home's cooling and heating account for approximately 50 to 70% of all the energy used in a home; leading homeowners to contemplate the benefits of attic insulation. A benefit of attic insulation for your Las Vegas home is that your HVAC system will work more effectively and last longer.
When most people think of attic insulation, they picture the pink itchy stuff that flies all over and makes a mess. That type is insulation is often traditional fiberglass insulation and is commonly used in all areas of the home. However, just rolling it out or stuffing it in your attic is not ideal. You need a professional to install your insulation if you want it done right, to keep your Las Vegas home cool and your energy bill down.
A common myth many people believe is states with warmer climates, such as Nevada, do not need insulation in their attic. The only places that do need to worry about attic insulation, are cooler states like Kentucky. That is an incorrect statement. While insulation in the attics of homes located in cooler states provide the warmth and help in keeping the heat from escaping through the roof, it can also help during the summer to prevent the cool air from escaping.
In places like Las Vegas, where the temperature regularly reaches the triple digits in the summer months, people may believe that attic insulation keeps the heat inside the house. However, attic insulation helps keep the cold HVAC air inside the house.
Just because your attic is insulated, it does not mean it is insulated with the correct insulation or properly. If you have too much or too little insulation in the attic, it will not provide the ideal benefits most homeowners expect.
How Does Insulation Work?
Attic insulation creates a barrier between the elements outside and inside your home. Insulation keeps your home warm during the winter and cool during the summer, by slowing down the process of heat transfer into your home.
Residents of Las Vegas know how hot it can be most of the year, as the summer months can be atrocious. Attic insulation prevents heat from entering your home, because heat automatically travels to cooler areas. The insulation prevents hot air from interacting with cold air with the help of a barrier (insulation). If an attic was not insulated and the 112-degree sun was beating down on the home's roof, that heat would penetrate the roof and attic, the ceiling between the attic and the floor, which is where your living space is. While your air conditioner may be pumping the cold air out in your house, it may still be 85 degrees or higher because there is nothing to prevent the heat from entering through your roof. Just like in winter months, cold air sneaks in through the roof, down through the attic floor and ceiling, and into your living space, creating a freezing house and a draft.
Attic insulation works by trapping miniscule pockets of air inside the insulation material. This helps in minimizing the amount of cold air or heat that travels between the inside / outside of your home. Since air is not flowing spontaneously between the outside and inside of the house, you're able to maintain the desired temperature inside.
Too Much Insulation in the Attic
A common misbelief is that if you stuff your attic full of insulation to the point where air is not able to move through it, it will keep any heat or cold air from escaping through the roof. In reality, installing the right amount of high quality insulation needed for your home can keep your home nice and comfortable all year long. With even higher chances of possibly even lowering your energy bills, which is a big plus!
However, there is also a negative side in having too much insulation in your attic. If there is no airflow, it can create a buildup of moisture as it has no place to go. Then you have an attic with mold and mildew, and mold can be dangerous to your health.
If by chance, you lose a shingle or a piece of slate, (this is more common than you might think) during storms that pass through the West, that water is often absorbed into the insulation, and eventually, renders it useless. This could cause you to lose a portion of your attic insulation and in return, part of your cool air and heat; raising your energy bills again.
Not Enough Attic Insulation
Gauging the amount of insulation you should have in your attic can be tricky. That's why it is often best to have professional help, such as from First Quality Roofing & Insulation in Las Vegas to inspect and install the correct amount and type of insulation.
Ideally speaking, according to the experts at First Quality Roofing & Insulation, for Southern (including Las Vegas) and Northern climates, the ideal R-factor is between R-38 and R-49. If you do not install the correct type of insulation, your air system can lose up to 30% of the cold air it is pumping out into your home.
If you think you may need more insulation in your attic, before you call in the professionals, look at the floor joists. If you can see them and they are even with or below the joists, you might need more insulation.
When you're considering installing or replacing insulation in your attic, you should take into consideration when your home was built. As the house ages, so does the insulation. For example, if your home is 40 years old, the insulation probably needs to be completely replaced. It could have holes in it from critters, the R-factor may not be up to date or you may find wet areas from leaking or mold. If you find mold, the attic insulation will need to be removed by a professional. Then new insulation will have to be installed so your home and living spaces can start feeling the benefits of attic insulation.
If you're ready to insulate your attic, call the attic insulation experts at First Quality Roofing & Insulation in Las Vegas at 702-262-7847 to come out and give you an estimate. First Quality is insured and state certified, offering 100% financing OAC, professional service and warranties.