You don't have to knock down walls to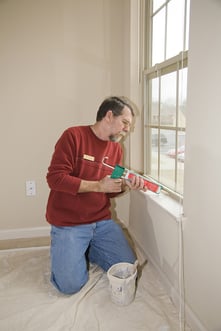 renovate your home, and with temperatures in Las Vegas giving you enough to sweat about, who would want to anyway?
If you want to revive the interior of your home and make parts of it seem like new again – which is what "renovations" are really all about – there are many projects you can undertake indoors. Allow First Quality Roofing & Insulation to share seven invigorating Las Vegas home renovations – topped off by a bonus guide from the city's premier roofing company. The projects are listed here in order of ease (more or less):
Install a programmable thermostat.

Set your indoor temperature for a day or several days ahead of time, and around the times you're not home, and watch the energy savings accumulate – even to the tune of 20 percent, according to the U.S. Department of Energy.

Recaulk your tubs and showers.

Fear not; if you've squeezed frosting out of a tube, then you can caulk (though it's always a good idea to practice first). Fresh caulk looks clean, and it will safeguard your bathrooms from expensive leaks.

Replace outlet and switch covers.

You can have some real fun with this Las Vegas home renovation project. Start with replacing discovered covers and work your way up to installing dimmer switches – an improvement so fine you might wonder how you ever lived without them.

Install new door knobs and handles.

Just like the knobs and pulls on your kitchen cabinets, the hardware on your doors can provide an instant makeover. Drab doors can fade into the woodwork, and it can be expensive to replace them even if you desperately want to. New hardware is a sound runner-up choice.
Hang a new light fixture.

It might be difficult to pinpoint only one room for this Las Vegas home renovation, so start in the room that draws the most activity (probably the kitchen) and work your way into the family and living rooms. A bright, new light fixture can make it feel as though you've knocked down a wall.

Install a new faucet (or two).

Give some serious thought to the handle you prefer (instead of living with the one the builder probably selected for you). It can increase your enjoyment of your sinks tenfold – and reduce the inevitable drip-drip of faucets way past their prime.

Enliven your kitchen with a new backsplash.

This is one Las Vegas home renovation that you should tailor to your interest and talents. Installing tile and grout can fatigue even the most seasoned do-it-yourselfer. Stainless steel, copper and even mirrors can be hung by novices – and produce an astounding transforming effect in what is probably the busiest room in your home.

Revel in the

Home Maintenance Checklist,

Courtesy of First Quality Roofing & Insulation. We know: even if you face a wrinkle or two with one of these Las Vegas home renovation projects, the feeling of accomplishment will quickly override them. And then you'll start looking for more ways to invigorate your home.

Download our Home Maintenance Checklist – and find exactly what you're looking for.