You can relax; that smoke streaming from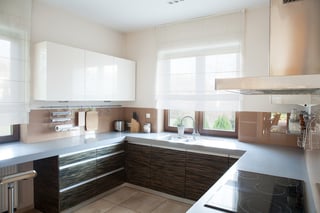 your kitchen is coming from your heels, not your oven.
When you're on the move at this pace – packing lunches, making dinner and otherwise performing functions of a short-order cook – you know it's the little organizational details that can put more octane in your step. Consider these seven ingenious kitchen storage ideas, all of which require nominal assembly:
Clean up under-sink clutter. Put the supplies you need most – sponges, dish soap and plastic wrap – right at your fingertips by cutting a plastic storage tub in half with a utility knife and mounting it to the inside of a cabinet door. Before you start cutting, be sure to check that the tub you choose will fit inside once you close the door.
Create a slide-out wine glass storage rack. If you love the wine bistro look of hanging glasses upside down, you'll gravitate to this simple-to-construct wine rack as a kitchen storage idea. Purchase T-moldings (used for wood floor transitions) from a home improvement store, cut them to size, space them according to the width of your glasses and use brass screws to mount the moldings on the underside of a shelf.

Harness plastic bags. Those plastic bags from the grocery store pile up in a hurry, creating a puffy mountain of disarray. But they're oh-so-handy for throwing out food scraps. Solve this kitchen dilemma by mounting a large, rectangular tissue box on a lower cabinet door and loading bags inside, from the bottom up. When you need a bag, one will lift out as freely as a...tissue.
Mount measuring cups and spoons. Of course your gadget drawer is cluttered. Whose isn't? But measuring cups and spoons are the bane of any cook's existence, so make them easy to grab by mounting a wood strip on the inside of an upper cabinet (for the base) and using hooks with adhesive backs to hang the cups and spoons.

Organize flat items. Metal file folder organizers are not exactly pretty to look at. But in a cabinet as a kitchen storage idea, they fade into the background and put baking sheets, cutting boards, pizza pans and pan lids front and center, where you can clearly see them and slide them in and out with ease.

Put spring into your spices. Give prominence to those tiny spice containers you know you need but get lost amid bigger and taller jars. Simply mount a spring-tension curtain rod in a cabinet and line up those tiny containers like little soldiers and you'll never struggle to find them again.

Tame canned good chaos. Stacking cans is a necessity in most cabinets, but how do you see the cans lined up behind them? Give them all visibility by trimming racks from a closet organizer down to size with a hacksaw. Rest the back side of rack against the back of a cabinet, using mounting screws to secure the rack in place. Load the rack with cans from the bottom up for a panoramic display -- and a kitchen storage idea that works.

Home improvement projects can be contagious and First Quality Roofing & Insulation is ready to help you navigate your next move. Download our handy guide, the Home Maintenance Checklist and be prepared for more smoke to stream from your heels.