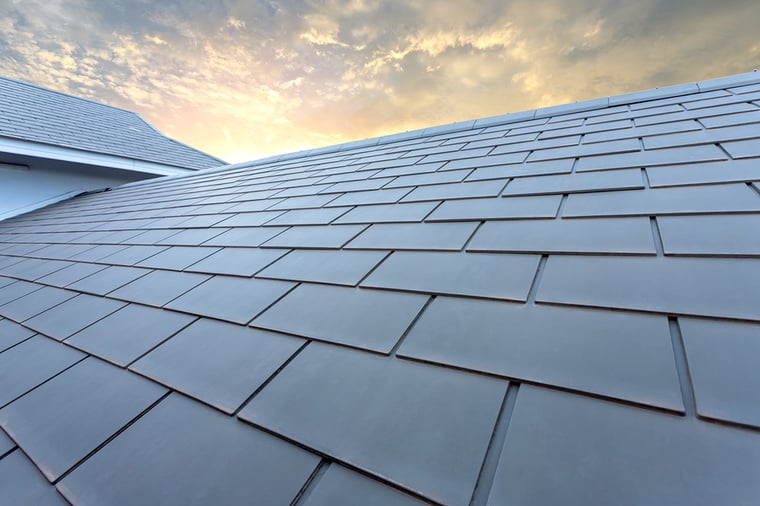 Available in a diverse range of sizes, textures, and shades, slate roofing has been the choice of discerning builders and homeowners for centuries. Its natural beauty and remarkable longevity complement the look and add value to any architectural style. Like all roofing materials, slate has advantages and disadvantages, depending on what you hope to achieve and spend.
Here are the answers to some of the most frequently asked questions we get about slate roofs.
What Are the Pros and Cons of Slate Roofing?
It's low maintenance, ages beautifully, requires few repairs, and has a unique appearance. And unlike some other roofing materials, slate is eco-friendly with no asphalt, fiberglass, or plastic components.
Disadvantages include complications replacing a broken tile, the higher cost, and the extra care it takes to make sure it's properly installed.
Can my home support the weight of a slate roof?
Most homes can. You may have heard about slate roofs that failed within a couple years of installation. It's generally because the underlying structure was weak to begin with. Since slate is heavier than most roofing materials, it's important to have a professional slate roofing contractor test the roof's support capabilities.
How long will my slate roof last?
Slate is natural stone that is millions of years old. The S1 grade that is mined in North America is strong, dense, and durable and, as long as it isn't sealed or painted, can last for hundreds of years on a roof. Slate roofs also do not hold up well to foot traffic which could snap, perforate, or dislodge tiles.
Is a slate roof difficult to maintain?
Slate is naturally waterproof and non-combustible which makes it ideal for protecting your home in the event of a fire. Highly resistant to heavy rain and wind, it also is not affected by mold or fungus. All these traits add up to a practically maintenance-free roof.
Does slate only come in gray?
No, slate's color options include green, plum, red, and black, as well as mixed color variations that naturally occur. Your slate roof will truly be one-of-a-kind!
How much does slate roofing cost?
It depends, and costs vary broadly depending on thickness, weight, roof pitch, and ease of installation. Estimates range from $10 to $40 and more per square foot.
Do I need a specialist to install a slate roof?
A slate roof is more of an art form so it's typically not a good DIY project. To protect your investment, it's best to find a fully-trained professional to install slate roofing projects.
While the initial cost of a slate roof may seem discouraging, the long-term benefits are often worthwhile. If you're ready to explore the option of installing slate roofing on your Las Vegas home, contact us today at 702-262-7847. Replacing your Nevada roof is just a call away!